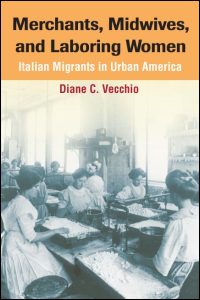 Merchants, Midwives, and Laboring Women
Italian Migrants in Urban America
Challenging long-held patriarchal assumptions about Italian women's work in the United States
Cloth – $39
978-0-252-03039-0
Publication Date: January 2006
About the Book
Diane C. Vecchio's unique study considers the work experiences of Italian immigrant women and their daughters in the previously unexamined regions of Milwaukee, Wisconsin, and Endicott, New York, during the turn of the twentieth century. Using Italian and American sources and rich oral histories, this study reveals that women in Italy had economic responsibilities that often included work experiences outside of the home, including jobs as midwives and businesswomen.
Demonstrating the regional variation of Italian women's work as well as the skills they transplanted to America balances the image of inexperienced and low-skilled laborers that dominates scholarship on Italian working women. Vecchio's research on Endicott sheds light on the gendered nature of life in a "company town" governed by welfare paternalism, while her research on Milwaukee emphasizes how Italian immigrant women turned to small business enterprise when local opportunities for wage-earning were limited. This comparative method helps to move beyond reductionist theories and conventional portraits of Italian women to explore the diverse factors that prompted them to seek certain kinds of occupations to the exclusion of others.
About the Author
Diane C. Vecchio is an associate professor of history at Furman University in Greenville, South Carolina.
---