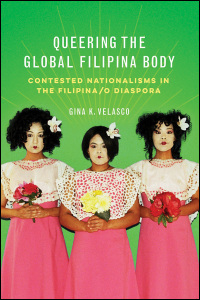 Queering the Global Filipina Body
Contested Nationalisms in the Filipina/o Diaspora
Globalization, work, and the images of Filipinas in the media
Cloth – $110
978-0-252-04347-5
Paper – $26
978-0-252-08537-6
eBook – $19.95
978-0-252-05235-4
Publication Date
Paperback: 11/16/2020
Cloth: 11/16/2020
About the Book
Contemporary popular culture stereotypes Filipina women as sex workers, domestic laborers, mail order brides, and caregivers. These figures embody the gendered and sexual politics of representing the Philippine nation in the Filipina/o diaspora. Gina K. Velasco explores the tensions within Filipina/o American cultural production between feminist and queer critiques of the nation and popular nationalism as a form of resistance to neoimperialism and globalization.
Using a queer diasporic analysis, Velasco examines the politics of nationalism within Filipina/o American cultural production to consider an essential question: can a queer and feminist imagining of the diaspora reconcile with gendered tropes of the Philippine nation? Integrating a transnational feminist analysis of globalized gendered labor with a consideration of queer cultural politics, Velasco envisions forms of feminist and queer diasporic belonging, while simultaneously foregrounding nationalist movements as vital instruments of struggle.
* Publication of this book was supported by funding from Gettysburg College.
About the Author
Gina K. Velasco is an assistant professor in the Women, Gender, and Sexuality Studies Program at Gettysburg College.
---