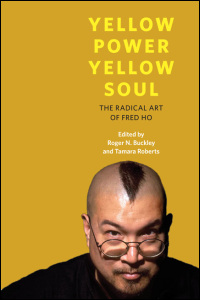 Yellow Power, Yellow Soul
The Radical Art of Fred Ho
Potent takes on the larger-than-life dissident musician and activist
Cloth – $110
978-0-252-03750-4
Paper – $30
978-0-252-07899-6
eBook – $19.95
978-0-252-09470-5
Publication Date
Paperback: 04/29/2013
Cloth: 04/29/2013
About the Book
Saxophonist Fred Ho is an unabashedly revolutionary artist who offers up music that is illuminating, daring, informative, scholarly, ambitious, brashly confident and vigorous, meticulous, extravagant, and emotionally sweeping. A foremost voice in the history of West Coast Asian American jazz, the East Coast avant-garde, and numerous antioppression movements, Ho has spent his life redefining the relationship between art and politics.
This dynamic collection explores the life, work, and persona of Fred Ho. Scholars, artists, and friends give their unique takes on Ho's career, articulating his artistic contributions, their joint projects, and personal stories. Interspersed throughout is original poetry inspired by Ho's work. Amplifying his musical and theatrical work, his political theory and activism, and his personal life as it relates to politics, Yellow Power, Yellow Soul offers an intimate appreciation of the entirety of Fred Ho's irrepressible and truly original creative spirit.
Contributors are Roger N. Buckley, Peggy Myo-Young Choy, Jayne Cortez, Kevin Fellezs, Diane C. Fujino, Magdalena Gómez, Richard Hamasaki, Esther Iverem, Robert Kocik, Genny Lim, Ruth Margraff, Bill V. Mullen, Tamara Roberts, Arthur J. Sabatini, Kalamu ya Salaam, Miyoshi Smith, Arthur Song, and Salim Washington.
About the Author
Roger N. Buckley is a professor of history and the founding director of the Asian American Studies Institute at the University of Connecticut. Tamara Roberts is an assistant professor of ethnomusicology and performance studies at the University of California, Berkeley.
---