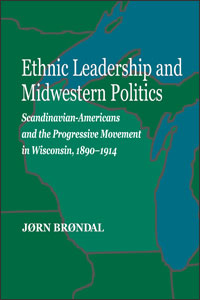 Ethnic Leadership and Midwestern Politics
Scandinavian Americans and the Progressive Movement in Wisconsin, 1890-1914
How Scandinavian immigrants entered the American world of politics in search of a Scandinavian-American identity
Cloth – $44
978-0-87732-095-1
Publication Date: December 2005
About the Book
Ethnic Leadership and Midwestern Politics
investigates the notion of ethnic identity as it relates to Scandinavian Americans and political affiliations in Wisconsin, from 1890-1914. Jørn Brøndal traces the evolution of their political alliances as they move from an early patronage system to one of a more enlightened social awareness, prompted by the Wisconsin Progressives led by Robert M. La Follette.
Brøndal's exceptionally thorough research and cogent arguments combine to explain the workings of a political system that accorded nationality a major role in politics at the expense of real political, social, and economic issues in the early 1890s, and how (and why) the Progressives determined to change that system. Brøndal explains the change by looking at several important Scandinavian-American institutions, including the church, mutual aid fraternities, the temperance movement, the Scandinavian-language press, political clubs, and labor and farmer organizations, showing how these institutions impacted the construction of a nascent sense of Scandinavian American national identity and made a lasting mark on the Scandinavian-American role in politics.
About the Author
Jorn Brondal teaches history at the University of Southern Denmark.
Awards
Named a Wisconsin Historical Society Book Award of Merit, 2005.
---