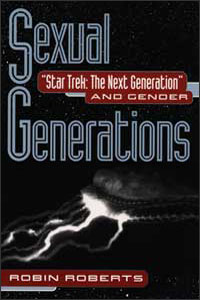 Sexual Generations
"Star Trek: The Next Generation" and Gender
Finding feminism on the final frontier
Paper – $31
978-0-252-06810-2
Publication Date
Paperback: 01/01/1999
About the Book
Boldly going where no one has gone before, Robin Roberts forges intriguing links between feminist politics and theory and the second
Star Trek
series,
Star Trek: The Next Generation
. This lively discussion shows how science fiction's ability to make the familiar strange allows
Star Trek
to expose and comment on entrenched attitudes toward gender roles and feminist issues. By having aliens or sexually neutral beings enact female dominance or passivity, experience pregnancy or maternity, or suffer rape or abortion,
Star Trek
provides viewers with a new perspective on these experiences and an antidote to explicit and implicit cultural biases. Roberts maintains that the relevance of
Star Trek: The Next Generation
to feminist issues accounts as no other factor can for the program's huge following of female fans.
The incisive and innovative readings in Sexual Generations provide food for thought about how the final frontier can clarify pressing questions of our own space and time.
---