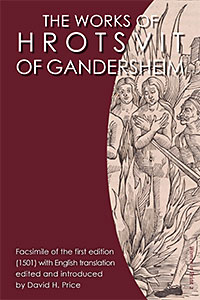 The Works of Hrotsvit of Gandersheim: Facsimile of the First Edition (1501)
Drama, poetry, and epic verse from the medieval woman who revived playwriting in the West
eBook – $0
978-0-252-09816-1
Publication Date:
About the Book
These works by a tenth-century woman, who wrote plays when no one else in Europe was writing plays and who imitated the style of Terence when most people thought the classics had been forgotten, caused a literary sensation when they were first published in 1501.
Hrotsvit of Gandersheim stands as the earliest writer of either gender to claim a secure place in the German language's literary canon. A canoness, she wrote primarily on the lives of Christian figures, and she also introduced the Faustian theme to German literature. Her works remain widely read in part due to her narrative penchant for portraying strong, determined women committed to their faith. This volume includes a facsimile of the 1501 printing of Hrotsvit's works, plus modern English translations of her legends, plays, and the epic history The Deeds of Otto. Editor David H. Price has extensively revised translations of the plays to render them more accurately and completely.
About the Author
Hrotsvit of Gandersheim, born circa 935, was a canoness at Gandersheim, a Benedictine monastery in Saxony. She may have come from the Saxon nobility, and she had the education to refer to ancient authors like Ovid and Virgil. Hrotsvit died around the year 975. David H. Price is professor of religious studies, history, and Jewish studies at the University of Illinois at Urbana-Champaign.
---