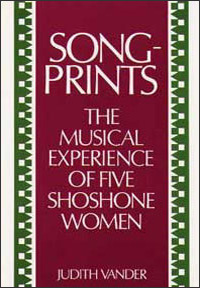 Songprints
The Musical Experience of Five Shoshone Women
The songs and life stories of Shoshone women in Wyoming
Paper – $35
978-0-252-06545-3
Publication Date
Paperback: 01/01/1996
About the Book
Songprints
explores the musical lives of Native American women as they navigate a century of cultural change and constancy among the Shoshone of Wyoming's Wind River Reservation. Judith Vander captures the distinct personalities of five generations of Shoshone women as they describe their thoughts, feelings, and attitudes toward their music. Ranging in age from seventy to twenty, the women provide a unique historical perspective on twentieth-century Wind River Shoshone life.
In addition to documenting these oral histories, Vander transcribes and analyzes seventy-five songs that the women sing--a microcosm of Northern Plains Indian music. As she shows, each woman possesses her own songprint, a repertoire distinctive to her culture, age, and personality, as unique in its configuration as a fingerprint or footprint. Vander places the women's song repertoires in the context of Shoshone social and religious ceremonies as she offers insights into the rise of the Native American Church, the emergence and popularity of the contemporary powwow, and the expanding role of women.
About the Author
Judith Vander is an independent ethnomusicologist and composer. She is the author of Ghost Dance Songs and Religions of a Wind River Shoshone Woman.
Awards
2nd Place from the Pauline Alderman Prize for New Scholarship on Women in Music from the International Congress on Women in Music. Winner of an ASCAP Deems Taylor Award, 1989.
---