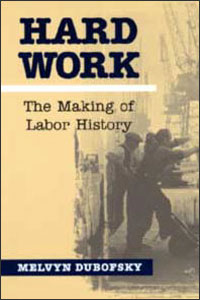 Hard Work
The Making of Labor History
A career-spanning collection of writings by the legendary labor historian
Paper – $33
978-0-252-06868-3
Publication Date: May 2000
About the Book
One of American labor history's most prominent scholars, Melvyn Dubofsky curated an accessible style and historical reach that have long marked his work as required reading for students and scholars.
This collection juxtaposes Dubofsky's early writings with scholarship from the 1990s. Selections include work on western working-class radicalism, U.S. labor history in transnational and comparative settings, and the impact of technological change on American worker's movements. Throughout, the writings provide an invaluable eyewitness perspective on the academic and political climate of the 1960s and 1970s while tracing the development of labor history as a discipline.
An exploration of important themes in labor history, Hard Work combines essential scholarship with the story of how past and present interact in the work of historians.
Reviews
"This all-too-rare example of history at its best combines interesting stories told within a context of weighty, yet accessible ideas. An appropriate capstone to Dubofsky's long and distinguished career."--
Choice
---
Blurbs
"Dubofsky's articles continue to instruct us in our present work as labor and social historians, even as they serve as an insightful guide to critical aspects in the evolution of the field over the last four decades. Culled from a lifetime of scholarship, these essays now gathered together remind us of our debt to his pronounced historical curiosity, careful research, and innovative interpretive analysis. It is a boon to have them collected in a volume so useful for teaching at all levels."--Nick Salvatore, author of Eugene V. Debs: Citizen and Socialist

"Dubofsky's essays are central to the current labor history literature. Anyone serious about labor history as a field of study will want to own this book."--Robert Zieger, author of American Workers, American Unions
---