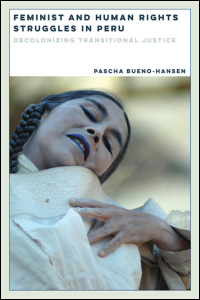 Feminist and Human Rights Struggles in Peru
Decolonizing Transitional Justice
Gendered violence and reconciliation in post-civil war Peru
Cloth – $110
978-0-252-03942-3
Paper – $28
978-0-252-08100-2
eBook – $14.95
978-0-252-09753-9
Publication Date
Cloth: 08/17/2015
About the Book
In 2001, following a generation of armed conflict and authoritarian rule, the Peruvian state created a Truth and Reconciliation Committee (TRC). Pascha Bueno-Hansen places the TRC, feminist and human rights movements, and related non-governmental organizations within an international and historical context to expose the difficulties in addressing gender-based violence.
Her innovative theoretical and methodological framework based on decolonial feminism and a critical engagement with intersectionality facilitates an in-depth examination of the Peruvian transitional justice process based on field studies and archival research. Bueno-Hansen uncovers the colonial mappings and linear temporality underlying transitional justice efforts and illustrates why transitional justice mechanisms must reckon with the societal roots of atrocities, if they are to result in true and lasting social transformation.
Original and bold, Feminist and Human Rights Struggles in Peruelucidates the tension between the promise of transitional justice and persistent inequality and impunity.
About the Author
Pascha Bueno-Hansen is an assistant professor of women and gender studies and is affiliated with the Political Science and International Relations Department and the Latin American Studies Program at the University of Delaware.
---