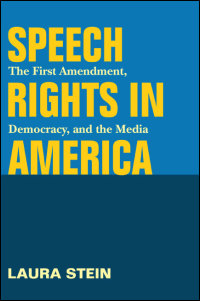 Speech Rights in America
The First Amendment, Democracy, and the Media
The First Amendment's ongoing failure to protect speech rights
Paper – $23
978-0-252-07536-0
eBook – $19.95
978-0-252-09255-8
Publication Date
Paperback: 09/07/2007
About the Book
The First Amendment is the principle guarantor of speech rights in the United States. But the Supreme Court's interpretations of it often privilege the interests of media owners over those of the broader citizenry.
Laura Stein argues that such rulings alienate citizens from their rights, corrupt the essential workings of democracy, and prevent the First Amendment from performing its critical role as a protector of free speech. Drawing on the best of the liberal democratic tradition, Stein demonstrates that there is a significant gap between First Amendment law and the speech rights necessary to democratic communication, and proposes an alternative set of principles to guide future judicial, legislative, and cultural policy on old and new media.
About the Author
Laura Stein is an assistant professor of communication at the University of Texas, Austin.
---