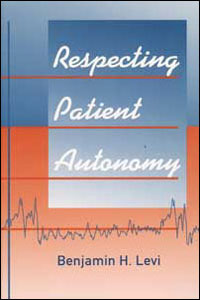 Respecting Patient Autonomy
Paper – $25
978-0-252-06749-5
Publication Date
Paperback: 01/01/1999
About the Book
Against a backdrop of real clinical situations, Benjamin H. Levi examines the dynamics that shape relations between patient and health care provider, addressing fundamental questions about how medical decisions should be reached and compelling the reader to think about health care issues and decisions in terms of the values and goals they promote.
Presenting bioethics as a practical, educational activity rather than an abstract intellectual exercise, this important volume shows how dialogue between patients and health care providers can clarify both medical and ethical issues, promoting patient autonomy and advancing health care.
Reviews
"Many discussions of bioethics, unfortunately, are arid and abstract, with little application to the real, often thorny world.
Respecting PatientAutonomy
. . . tries to bring the subject to earth, making it more human. . . A clear, well-written exploration of a vital ethical issue." — Doug Wyatt,
Savannah, Georgia News
"Especially for those who seek a greater insight into the complexities of what it means to respect individual patients' choices. His book is enlivened by examples of clinical dialogues. . . . The great value of this book is the sustained argument for the moral necessity for health care practitioners to treat patients as moral equals. As such, he comes up with a cogent and coherent approach to an important aspect of bioethics from which all can learn." — Myles N. Sheehan, America
---