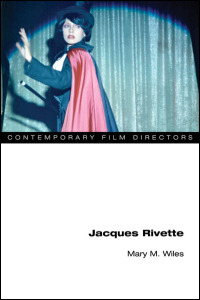 Jacques Rivette
An extended take on the innovator of the French New Wave
Cloth – $110
978-0-252-03665-1
Paper – $22
978-0-252-07834-7
eBook – $14.95
978-0-252-09372-2
Publication Date
Paperback: 02/20/2012
Cloth: 02/20/2012
About the Book
As a pioneer of the French New Wave, Jacques Rivette was one of a group of directors who permanently altered the world's perception of cinema by taking the camera out of the studios and into the streets. His films, including
Paris nous appartient, Out 1: Noli me tangere, Céline et Julie vont en bateau--Phantom Ladies Over Paris, La belle noiseuse, Secret défense,
and
Va savoir
are extraordinary combinations of intellectual depth, playfulness, and sensuous beauty.
In this study of Rivette, Mary M. Wiles provides a thorough account of the director's career from the burgeoning French New Wave to the present day, focusing on the theatricality of Rivette's films and his explorations of the relationship between cinema and fine arts such as painting, literature, music, and dance. Wiles also explores the intellectual interests that shaped Rivette's approach to film, including Sartre's existentialism, Barthes's structuralism, and the radical theater of the 1960s. The volume concludes with Wiles's insightful interview with Rivette.
About the Author
Mary M. Wiles is a lecturer in cinema studies at the University of Canterbury, Christchurch, New Zealand.
Reviews
"A riveting study of an often-overlooked director."--
Library Journal
"A perceptive volume, on a filmmaker whom studies are thin on the ground."--
Film International
"Wiles puts forth an original work which never relies on a compilation of other's analyses and review. . . . Wiles reinforces Rivette's credibility as experimental filmmaker while reaching out to audiences of adaptation and film studies."--
French Review
---
Blurbs
"A very useful and thoughtful book. In this critical study of Jacques Rivette, Mary M. Wiles situates Rivette within many strands of French culture and makes his films more legible. Wiles's discussion is well-informed, provocative, suggestive, and reliable, and her fanaticism about Rivette is contagious."--Jonathan Rosenbaum, author of Goodbye Cinema, Hello Cinephilia: Film Culture in Transition
---