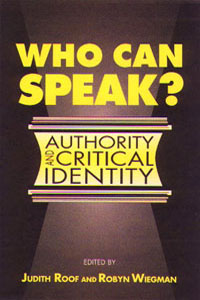 Who Can Speak?
Authority and Critical Identity
Paper – $24
978-0-252-06487-6
Publication Date
Paperback: 01/01/1995
About the Book
For women, for lesbians and gays, for African Americans, for Asians, Native Americans, or any other self-identified and -identifying group, who can speak? Who has the
authority
to speak for these groups? Is there genuinely such a thing as "objectivity," or can only members of these groups speak, finally, for themselves? And who has the authority to decide who has the authority?
This collection examines how theory and criticism are complicated by multiple perspectives in an increasingly multicultural society and faces head on the difficult question of what qualifies a critic to speak from or about a particular position. In different formats and from different perspectives from various disciplines, the contributors to this volume analytically and innovatively work together to define the problems and capture the contradictions and tensions inherent in the issues of authority, epistemology, and discourse.
---