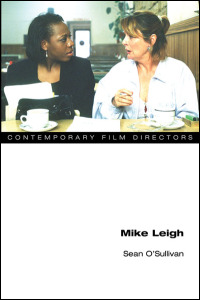 Mike Leigh
A new look at a well-loved director's critical engagement with cinema
Cloth – $110
978-0-252-03638-5
Paper – $22
978-0-252-07819-4
eBook – $14.95
978-0-252-09340-1
Publication Date
Paperback: 09/05/2011
Cloth: 09/05/2011
About the Book
In this much needed examination of Mike Leigh, Sean O'Sullivan reclaims the British director as a practicing theorist--a filmmaker deeply invested in cinema's formal, conceptual, and narrative dimensions. In contrast with Leigh's prevailing reputation as a straightforward crafter of social realist movies, O'Sullivan illuminates the visual tropes and storytelling investigations that position Leigh as an experimental filmmaker who uses the art and artifice of cinema to frame tales of the everyday and the extraordinary alike.
O'Sullivan challenges the prevailing characterizations of Leigh's cinema by detailing the complicated constructions of his realism, positing his films not as transparent records of life but as aesthetic transformations of it. Concentrating on the most recent two decades of Leigh's career, the study examines how Naked, Secrets and Lies, Topsy-Turvy, Vera Drake, and other films engage narrative convergence and narrative diffusion, the tension between character and plot, the interplay of coincidence and design, cinema's relationship to other systems of representation, and the filmic rendering of the human figure. The book also spotlights such earlier, less-discussed works as Four Days in July and The Short and Curlies, illustrating the recurring visual and storytelling concerns of Leigh's cinema. With a detailed filmography, this volume also includes key selections from O'Sullivan's several interviews with Leigh.
About the Author
Sean O'Sullivan is an assistant professor of English at The Ohio State University.
Reviews
"For knowledgeable filmgoers this is a useful examination of Leigh's oeuvre."--
Library Journal
"This intriguing artist is certainly worthy of this thorough study. Recommended."--
Choice
"An essential work for fans . . . of Mike Leigh's cinema."--
Rain Taxi
"O'Sullivan's work mining the films for deviation from reality, as well as his discussion of Leigh's attention to style and structure, is extremely thorough; he is a capable tour guide."
Journal of Film and Video
---
Blurbs
"Masterful. O'Sullivan utilizes astonishing scope and variation to confirm how Leigh's work bears comparison with the major work of the directors who have mattered most to the development of the latest of the great worldwide arts. It is a very lucky artist that finds and inspires so articulate and artistic a critic."--Stanley Cavell, author of Cavell on Film
---