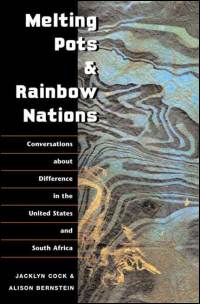 Melting Pots and Rainbow Nations
Conversations about Difference in the United States and South Africa
Paper – $22
978-0-252-07027-3
Publication Date: March 2002
About the Book
This passionate, intelligent commentary is an invigorating look at the implications of difference and diversity in two contrasting but similar societies: the United States and South Africa.
Melting Pots and Rainbow Nations
addresses how differences--of gender, race, culture, biology, and sexual orientation--are variously understood and acted on in both countries.
The authors argue that the concepts of difference and diversity, although valuable, are hollow if disconnected from specific social and historical contexts in which power relations create and perpetuate disadvantage. Their thoughtful exploration includes accounts of their own experiences of difference and their perspectives on such pioneering women as Elizabeth Bishop, Frene Ginwala, Audre Lord, Ruth First, Jane Goodall, and Mamphela Ramphele.
Reviews
"The authors of this interesting and complex analysis attempt nothing less than a new feminist approach to global issues by analyzing the implications of what they call 'difference and disadvantage' in the US and South Africa -- their respective homelands. . . . Their discussion proceeds on three levels: the personal, the contextual, and the theoretical. Chapters that examine the development of policies and practices on race, ecology, culture, sexual orientation, gender, and class in both countries are interleaved with email letters that the two women sent to each other, diary entries reflecting a series of trips that they undertook together, and reflections on women like Rachel Carson, Audre Lord, Mamphela Ramphele, and Frene Ginwala, whose pioneering efforts have changed the political and cultural landscape." --
Choice
"[Cock and Bernstein] . . . explore dangerous, often swampy, terrain, looking at large questions about racial diversity and multiculturalism, sexuality and activism, biodiversity and cultural preservation, and feminist political strategies. . . . This odd gem of a book makes no attempt to offer us a roadmap: Cock and Bernstein are looking for signposts for a democratic, humane feminist politics, but they are wise enough to avoid the temptation of pretending to find a clear dogmatic path. . . . [They] confront conflicts head-on and acknowledge dangers, but remain pragmatic nonetheless, seeking sensible understandings without ignoring contradictions." -- Gay Seidman, Women's Review of Books
"The authors of this interesting and complex analysis attempt nothing less than a new feminist approach to global issues by analyzing the implications of what they call "difference and disadvantage" in the US and South Africa--their respective homelands." -- N.B. Rosenthal, CHOICE
---