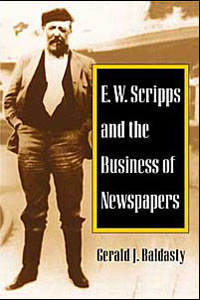 E. W. Scripps and the Business of Newspapers
A business history of the visionary press mogul
Paper – $23
978-0-252-06750-1
Publication Date
Paperback: 01/01/1999
About the Book
Edward Willis Scripps revolutionized the newspaper industry by applying modern business practices. His press empire grew to more than forty newspapers supported by a telegraphic news service and an illustrated news features syndicate. Convinced that big business was corrupting the American press, Scripps resisted supporting his newspapers through advertising. He also aimed them at the working class, an audience virtually ignored by most newspaper publishers of his era.
Drawing on Scripps's business correspondence, Gerald Baldasty provides a portrait of a long-neglected entrepreneurial giant. Maintaining that the press should support the democratic endeavor by informing its largest constituency, Scripps succeeded in creating a string of small, one-penny newspapers that advocated for the common people by crusading for lower streetcar fares, free textbooks for public school children, municipal ownership of utilities, and pure food legislation, among many other causes.
About the Author
Gerald Baldasty is a professor in the Department of Communication at the University of Washington. His books include Vigilante Newspapers: A Tale of Sex, Religion, and Murder in the Northwest.
Reviews
"Baldasty recounts behind-the-scenes family intrigues and conflicts over ownership in this detailed, well-researched book."--Vanessa Bush, Booklist

"Baldasty has written the type of book we all like to cite as a good example to our students."--Donald L. Shaw, American Historical Review

"A fascinating contribution to the history of newspaper publishing."--Christine Shaw, Business History

"Highly readable at the same time that it is carefully based on the evidence. Baldasty is nearly invisible as an analyst and interpreter; yet the presentation of the evidence and organization of the book represent his behind-the-scenes analysis. . . . An important example of a well done business history of the press that sticks to business."--Carolyn Stewart Dyer, Journalism History

"This book's main strength is its rich data on newspaper content in the late nineteenth and early twentieth centuries. . . . Well written and meticulously documented, and it generously offers prominent citations of the work of other, often younger, scholars. It is a most welcome addition to the literature."--William S. Solomon, Journal of American History

"Baldasty has expertly woven Scripps' newly available business correspondence into an illuminating look at this major and contradictory figure in the development of today's newspaper."--Anne Hecker, Journal of the West

"Fascinating. . . . Baldasty successfully achieves his goal of 'raising' the low profile of E. W. Scripps."--Louis Cain, Journal of Economic History


---