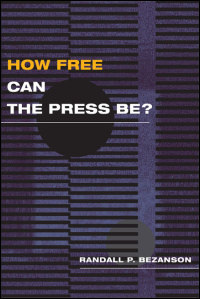 How Free Can the Press Be?
A stimulating exploration of American freedom of the press
Paper – $28
978-0-252-07520-9
eBook – $19.95
978-0-252-09054-7
Publication Date
Paperback: 10/01/2007
About the Book
Randall P. Bezanson explores the contradictions embedded in understanding press freedom in America by discussing nine of the most pivotal and provocative First Amendment cases in US judicial history. Each case resulted in a ruling that refined or reshaped judicial definition of the limits of press freedom.
The cases concerned matters ranging from The New York Times's publication of the Pentagon Papers to Hugo Zacchini's claim that TV broadcasts of his human cannonball act threatened his livelihood. Bezanson also examines the case of politician blackballed by the Miami Herald; the Pittsburgh Press's argument that it had the right to use gender based column headings in its classifieds; and a crime victim suing the Des Moines Register over the paper's publication of intimate details, including the victim's name.
Awards
Selected by the American Library Association as the Best of the Best from the University Presses, 2004.
---