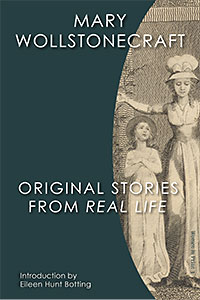 Original Stories from Real Life
With Conversations Calculated to Regulate the Affections, and Form the Mind to Truth and Goodness
Tales for building moral creatures from the pen of Frankenstein's grandmother
eBook – $0
978-0-252-09929-8
Publication Date:
About the Book
In 1791, Mary Wollstonecraft drew upon her experiences as a governess as well as her understanding of the philosophy of Jean-Jacques Rousseau to publish this popular collection of moral tales for children. Not surprisingly, the woman who would later write
A Vindication of the Rights of Women
had strong views on children's education. Wollstonecraft desired nothing less than liberating children, both girls and boys, from what she believed were irrational modes of education in late eighteenth-century European culture. Her hyper rational stories became influential models for expressing particular philosophies of education through children's literature.
This beautiful facsimile of the 1791 edition includes the original illustrations by William Blake. A commentary by Eileen Hunt Botting puts the text in context and hints at influences on Wollstonecraft's daughter Mary Shelley and the pedagogical philosophy behind Shelley's novel Frankenstein.
Like all volumes in the Women in Print series, Original Stories from Real Life is provided as an open access book and downloads to a wide variety of platforms and online e-readers.
About the Author
Born in 1759, Mary Wollstonecraft was a British writer, philosopher, and feminist best known for her treatise A Vindication of the Rights of Women. She died in 1797. William Blake (1757-1827) is considered one of Britain's greatest painters and poets. Eileen Hunt Botting is an associate professor in the Department of Political Science at the University of Notre Dame.
---