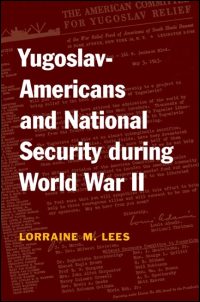 Yugoslav-Americans and National Security during World War II
The first intensive study of FDR's foreign nationalities policy
Cloth – $44
978-0-252-03210-3
Publication Date: August 2007
About the Book
Lorraine M. Lees explores the persistent tension between ethnicity and national security by focusing on the Yugoslav-American community during World War II. Identified by the Roosevelt Administration as the most representative example of the ethnic conflict requiring official attention, the Yugoslav-American community suffered from a severe political split, as right-wing monarchists loyal to Mihailovi? and the Chetniks battled left-wing supporters of Tito's partisans.
Lees examines the views of two groups of administration policy makers: one that perceived America's European ethnic groups as rife with divided loyalties, and hence a danger to national security; and a second that viewed such communities as valuable sources for political intelligence that would help the war effort in Europe.
Yugoslav-Americans and National Security during World War II is significant not only to understanding the Roosevelt Administration's equation of ethnicity with disloyalty, but also for its insights into similar attitudes that have arisen throughout periods of crisis in American history, as well as today.
About the Author
Lorraine M. Lees is an associate professor of history at Old Dominion University in Virginia and the author of Keeping Tito Afloat: The United States, Yugoslavia, and the Cold War.
Reviews
"Lees's engaging study is a major contribution to the field. . . . Highly recommended."--
Choice
"A fine scholarly contribution to a little explored aspect of American national security policy and illustrates well the activities of those agencies involved during a critical period in this nation's history."--
American Historical Review
---
Blurbs
"The Yugoslavs and American National Security during World War II is a first-rate contribution to our understanding of the home front dynamics of World War II. Lees illustrates how the American definition of national security rested firmly on a nativist base and how government policies affected ethnic groups. In highlighting the American desire for harmony and unity during wartime, Lees demonstrates the very complexity of the effort to attain such a state of 'national security' and makes important connections to the contemporary United States."--Allan M. Winkler, author of Franklin D. Roosevelt and the Making of Modern America

"This fascinating study of the intersection of ethnicity and national security explores the politically and ethnically complex case of the Yugoslav-Americans during World War II. Carefully researched and thoughtfully argued, it reveals the diverse efforts of American governmental agencies to manage the conflicts between the domestic supporters of such bitter foes as Mihailovi?'s Chetniks and Tito's partisans. Lorraine Lees provides insightful analysis of the motives and actions of the key American officials as they sought to control deep ethnic divisions at home and so to further the war effort abroad. This fine book not only sheds light on the past but also holds relevance for the present."--Wilson D. Miscamble, author of From Roosevelt to Truman: Potsdam, Hiroshima and the Cold War
---