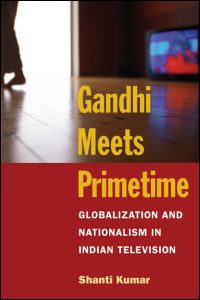 Gandhi Meets Primetime
Globalization and Nationalism in Indian Television
Charting the transformations of Indian popular culture through a politico-cultural analysis of its electronic media
Paper – $28
978-0-252-07244-4
eBook – $19.95
978-0-252-09166-7
Publication Date: January 2006
About the Book
Shanti Kumar's
Gandhi Meets Primetime
examines how cultural imaginations of national identity have been transformed by the rapid growth of satellite and cable television in postcolonial India. To evaluate the growing influence of foreign and domestic satellite and cable channels since 1991, the book considers a wide range of materials including contemporary television programming, historical archives, legal documents, policy statements, academic writings and journalistic accounts.
Kumar argues that India's hybrid national identity is manifested in the discourses found in this variety of empirical sources. He deconstructs representations of Mahatma Gandhi as the Father of the Nation on the state-sponsored network Doordarshan and those found on Rupert Murdoch's STAR TV network. The book closely analyzes print advertisements to trace the changing status of the television set as a cultural commodity in postcolonial India and examines publicity brochures, promotional materials and programming schedules of Indian-language networks to outline the role of vernacular media in the discourse of electronic capitalism. The empirical evidence is illuminated by theoretical analyses that combine diverse approaches such as cultural studies, poststructuralism and postcolonial criticism.
About the Author
Shanti Kumar is an assistant professor of communication arts at the University of Wisconsin, Madison, and coeditor of Planet TV: A Global Television Reader.
Reviews
"Unlike many country-specific texts, this one is easily accessible even to those with little historical knowledge of the country. . . . Recommended."--Choice"Useful study, especially given the overall importance of the sub-Continent in the world."--CBQ"This book breaks some new ground in its approach to Indian television and national identity. By including a consideration of how original visions of the nation by Gandhi and Nehru played out in public policy regarding television's role in national development, Kumar has illuminated the complex and sometimes contradictory views by Indian politicians and intellectuals. . . . This work deserves attention by readers of media globalization literature."--Communication Research Trends
---