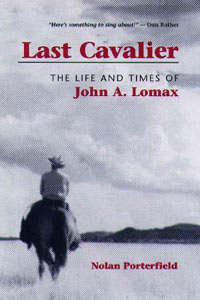 Last Cavalier
The Life and Times of John A. Lomax, 1867-1948
The never-before-told story of the folk music patriarch
Paper – $54
978-0-252-06971-0
Publication Date
Paperback: 01/01/2001
About the Book
John A. Lomax was an American original, a man of intellect, tireless ambition, visionary zeal, and vast contradictions. Perhaps best known as a pioneer American folklorist, he was also a successful businessman, an influential educator, and the patriarch of an extended family of artists, performers, and scholars whose work continues to influence American culture on both popular and academic levels.
Last Cavalier is the story of Lomax's long career, as colorful and lively as it was controversial. The book chronicles how this native Mississippian (although Lomax emphatically considered himself a Texan, having come to that state with his family as a child) collected folksongs on horseback, sold stocks and bonds, served at several major universities, lectured nationwide on many occasions, published a dozen books, helped legitimize comparative literature as an academic discipline, and played a major role in developing the Library of Congress's Archive of American Folk Song, now part of the American Folklife Center.
This first full account of Lomax's life relies on eight years of research through the Lomax family letters and papers and many interviews with those who knew him.
About the Author
Nolan Porterfield (d. 2020) is the author of Jimmie Rodgers: The Life and Times of America's Blue Yodeler, winner of the ASCAP-Deems Taylor Award; A Way of Knowing, a novel that won the Best Texas Novel Award of the Texas Institute of Letters; and "Jimmie Rodgers on Record," a monograph and discography that accompanied a Smithsonian reissue of the music of Jimmie Rodgers and was nominated for a Grammy Award.
Awards
Winner of the Carr P. Collins Award, given by the Texas Institute of Letters. Winner of a Miss Ima Hogg Historical Achievement Award from the Center for American History's Winedale Advisory Council.
---