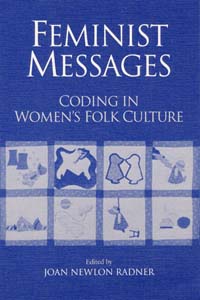 Feminist Messages
Coding in Women's Folk Culture
Paper – $24
978-0-252-06267-4
Publication Date
Paperback: 01/01/1993
About the Book
Burning dinners, stitching "scandalous" quilts, talking "hard" in the male dominated world of rap music---Feminist Messages interprets such acts as instances of coding, or covert expressions of subversive or disturbing ideas. While coding may be either deliberated or unconscious, it is a common phenomenon in women's stories, art, and daily routines. Because it is essentially ambiguous, coding protects women from potentially dangerous responses from those who might be troubled by their messages.
About the Author
Joan Newlon Radner is a professor of literature, Celtic studies, and folklore at American University, Washington, D.C.
Awards
First Prize Winner of Elli Kongas-Maranda Prize, American Folkore Society.
---