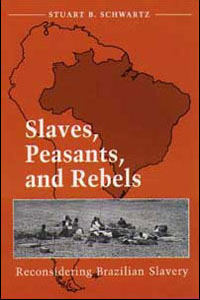 Slaves, Peasants, and Rebels
Reconsidering Brazilian Slavery
A challenge to views on slavery in Brazil and how historians have studied it
Paper – $25
978-0-252-06549-1
Publication Date
Paperback: 01/01/1995
About the Book
Once preoccupied with Brazilian slavery as an economic system, historians shifted their attention to examine the nature of life and community among enslaved people. Stuart B. Schwartz looks at this change while explaining why historians must continue to place their ethnographic approach in the context of enslavement as an oppressive social and economic system. Schwartz demonstrates the complexity of the system by reconsidering work, resistance, kinship, and relations between enslaved persons and peasants. As he shows, enslaved people played a role in shaping not only their lives but Brazil's institutionalized system of slavery by using their own actions and attitudes to place limits on slaveholders.
A bold analysis of changing ideas in the field, Slaves, Peasants, and Rebels provides insights on how the shifting power relationship between enslaved people and slaveholders reshaped the contours of Brazilian society.
About the Author
Stuart B. Schwartz is George Burton Adams Professor of History and Chair of the Council on Latin American and Iberian Studies at Yale University. His books include All Can Be Saved: Religious Tolerance and Salvation in the Iberian Atlantic World and the Bolton Prize-winning Sugar Plantations in the Formation of Brazilian Society.
Reviews
"Reconsiders the critical issues of how the Brazilian slave system operated, how it coexisted with a parallel system of agriculture based on free labor, and by what means African and Afro-Brazilian slaves acted to shape their own lives. . . . A coherent and highly challenging overview of one of the most important questions about Brazil's past. Handsomely printed and thoroughly documented."--Choice

"Of interest to all concerned with the human interactions under nonfree--as well as free--labor systems and those involved with the historical study of slavery and slave societies."--Stanley L. Engerman, Annals of the American Academy of Political and Social Science

"A powerful volume."--Roy Arthur Glasgow, International Journal of African Historical Studies

"Graduate students will find it indispensable."--George Reid Andrews, American Historical Review

"A welcome addition to the debates on slavery. . . . Will be of interest to specialists, students, and interested laypeople."--Murici Nazzari, Slavery and Abolition

A volume in the series Blacks in the New World, edited by August Meier and John H. Bracey
---