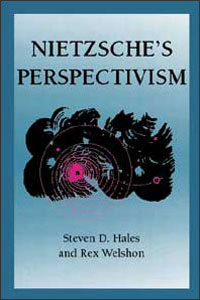 Nietzsche's Perspectivism
An analytical assessment of Nietzsche's views on many topics, demonstrating his core belief that the value of the world lies in our interpretation of it and even the very nature of the world depends upon perspective.
Paper – $30
978-0-252-06866-9
Publication Date
Paperback: 01/01/2000
About the Book
In
Nietzsche's Perspectivism
, Steven Hales and Rex Welshon offer an analytic approach to Nietzsche's important idea that truth is perspectival. Drawing on Nietzsche's entire published corpus, along with manuscripts he never saw to press, they assess the different perspectivisms at work in Nietzsche's views with regard to truth, logic, causality, knowledge, consciousness, and the self. They also examine Nietzsche's perspectivist ontology of power and the attendant claims that substances and subjects are illusory while forces and alliances of power constitute the only reality.
Hales and Welshon present Nietzsche's treatment of perspectivism as both more complex and more fruitful than the common view of it as a doctrine that truth is not objective. Neither a metaphor nor a methodology, perspectivism emerges as a protean concept akin to a unifying theme; an alternative to the absolutism that recurs in science, philosophy, and religion; and a technique for revealing the unimagined possibilities open to every individual.
Reviews
"A stereotype of Nietzsche persists even in the academic community, namely, that 'Nietzsche believes that truth depends upon one's 'perspective.' This book not only shows how facile that stereotype is, but also how rich and diverse Nietzsche's perspectivisms are. . . . A rich and nuanced work that will be of value not only to philosophers and theologians but to literary critics as well." -- Fred W. Burnett,
Religious Studies Review
"A project of considerable merit. . . . Especially worthy of attention is the authors' consideration of Nietzsche's views on logic and consciousness. . . . A welcome and a challenging addition to the body of Nietzsche scholarship." -- Tsarina Doyle, International Philosophical Quarterly
---