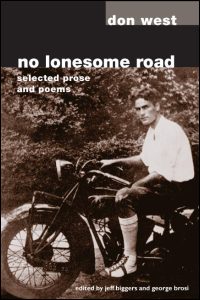 No Lonesome Road
Selected Prose and Poems
Rediscovery of one of Appalachia's most important and pioneering literary voices and social justice activists
Paper – $25.95
978-0-252-07157-7
eBook – $14.95
978-0-252-09283-1
Publication Date: March 2004
About the Book
This is the first book to celebrate the life and writing of one of the most charismatic Southern leaders of the middle twentieth century, Don West (1906-1992). West was a poet, a pioneer advocate for civil rights, a preacher, a historian, a labor organizer, a folk-music revivalist, an essayist, and an organic farmer. He is perhaps best known as an educator, primarily as cofounder of the Highlander Folk School in Tennessee and founder of the Appalachian South Folklife Center in West Virginia. In his old age, West served as an elder statesman for his causes.
No Lonesome Road allows Don West to speak for himself. It provides the most comprehensive collection of his poetry ever published, spanning five decades of his literary career. It also includes the first comprehensive and annotated collection of West's nonfiction essays, articles, letters, speeches, and stories, covering his role at the forefront of Southern and Appalachian history, and as a pioneer researcher and writer on the South's little-known legacy of radical activism.
Drawing from both primary and secondary sources, including previously unknown documents, correspondence, interviews, FBI files, and newspaper clippings, the introduction by Jeff Biggers stands as the most thorough, insightful biographical sketch of Don West yet published in any form.
The afterword by George Brosi is a stirring personal tribute to the contributions of West and also serves as a thoughtful reflection on the interactions between the radicals of the 1930s and the 1960s.
The best possible introduction to his extraordinary life and work, this annotated selection of Don West's writings will be inspirational reading for anyone interested in Southern history, poetry, religion, or activism.
About the Author
Jeff Biggers is a writer and radio correspondent based in Illinois and Italy. He has contributed to NPR, PRI, The Atlantic, and other periodicals. George Brosi, a long-time associate of Don West, is a bookseller, authority on writings about Appalachia, and the editor of Appalachian Heritage. He teaches at Eastern Kentucky University.
Awards
American Book Award, given by the Before Columbus Foundation, 2005.
---