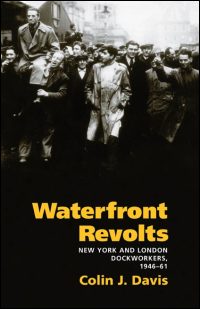 Waterfront Revolts
New York and London Dockworkers, 1946-61
Comparing how NYC and London's dockworkers challenged the powers-that-be
Cloth – $44
978-0-252-02878-6
Publication Date: November 2003
About the Book
During the decade that followed World War II, American and British dockworkers undertook a series of militant revolts against their employers, their governments, and even their union leaderships. In this in-depth comparative study, Colin Davis explores the upheavals on both sides of the Atlantic.
Davis examines the dynamics of work and work stoppage along the two pivotal waterfronts, showing how issues of race, organized crime, union affiliation, working conditions, and Cold War politics shaped waterfront uprisings and the state's response to them. He explores other key differences between American and British labor, such as the cultural forces that led to the emergence of rank-and-file dockworkers' movements, degree of governmental oversight, methods of obtaining work, and specifics of ethnic and racial identification.
An eye-opening look at dockworker influence in postwar industry, Waterfront Revolts reveals how workers and trade unions directly influenced Cold War politics, the economy, and culture across national borders.
About the Author
Colin J. Davis is a retired Distinguished Professor at the University of Alabama at Birmingham. He is the author of Power at Odds: The 1922 National Railroad Shopmen's Strike and Contested and Dangerous Seas: North Atlantic Fishermen, Their Wives, Unions, and the Politics of Exclusion.
---