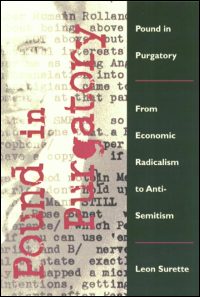 Pound in Purgatory
From Economic Radicalism to Anti-Semitism
Now available in paper, Pound in Purgatory explains Pound's early non anti-Semitic beliefs and why his views changed to anti-Semitic.
Paper – $32
978-0-252-07159-1
Publication Date
Paperback: 09/15/2003
About the Book
Pound in Purgatory,
available now in paperback, overturns all previous explanations of Ezra Pound's anti-Semitism by uncovering its roots in economic and conspiracy theory. Leon Surette demonstrates that, contrary to popular opinion, Pound was not a life-long anti-Semite and consistently ignored or resisted anti-Semitic comments from his correspondents until after 1931.
From 1931 to 1945 Pound's poetry took a back seat to his activities as an economic reformer and propagandist for the corporate state. Pound believed he had a simple and practical solution for the economic woes of the world brought on by the Great Depression, and he became increasingly preoccupied with capturing political power for the economic reform he envisioned.
As the world spiraled toward war, Pound's program of economic reform foundered and he gradually succumbed to a paranoid belief in a Jewish conspiracy. Through an incisive analysis of Pound's correspondence and writings, much of it previously unexamined, Surette shows how this belief fostered the virulent anti-Semitism that pervades his work-–both poetry and prose-–from this time forward.
Reviews
"An exceptionally cogent account of the dynamics between Pound and his polemical correspondents as they are evidenced in the mass of archival material Surette newly introduces to the published record. Sure to become a standard."--
Choice
---
Blurbs
"With great learning and his customary acerbic rigor Surette digests Pound's reading, maps his influences, and shows how the poet lost himself in tangles of economic theory--a confusion he resolved by positing a cosmic racial conspiracy. This is intellectual history at its best."--Alec Marsh, author of Money and Modernity: Pound, Williams, and the Spirit of Jefferson
---