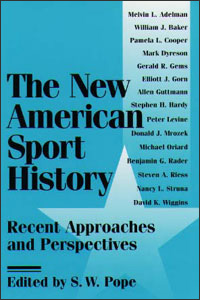 The New American Sport History
Recent Approaches and Perspectives
Exploring overlooked areas in the history of sport
Paper – $30
978-0-252-06567-5
Publication Date
Paperback: 01/01/1997
About the Book
In this collection, sixteen scholars explore topics as diverse as the historical debate over black athletic superiority, the selling of sport in society, the eroticism of athletic activity, sexual fears of women athletes, and the marketing of the marathon.
In line with the changing nature of sport history as a field of study, the essays focus less on traditional topics and more on themes of class, gender, race, ethnicity, and national identity, which also define the larger parameters of social and cultural history. It is the first anthology to situation sport history within the broader fields of social history and cultural studies.
Contributors are Melvin L. Adelman, William J. Baker, Pamela L. Cooper, Mark Dyreson, Gerald R. Gems, Elliott J. Gorn, Allen Guttmann, Stephen H. Hardy, Peter Levine, Donald J. Mrozek, Michael Oriard, S. W. Pope, Benjamin G. Rader, Steven A. Riess, Nancy L. Struna, and David K. Wiggins.
About the Author
S. W. Pope is the author of Patriotic Games: Sporting Traditions in the American Imagination, 1876-1926.
Awards
A CHOICE Outstanding Academic Title, 1998.
---