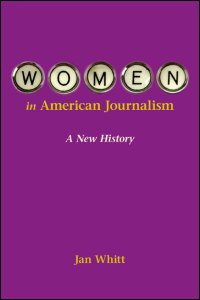 Women in American Journalism
A New History
The previously untold stories of women throughout the history of journalism
Paper – $28
978-0-252-07556-8
Publication Date: August 2008
About the Book
In this volume, Jan Whitt tells the stories of women who have been overlooked in journalism history, offering an important corrective to scholarship that narrowly focuses on the deeds of men like Joseph Pulitzer and William Randolph Hearst. She shows how numerous women broadened the editorial scope of newspapers and journals, transformed women's professional roles, used journalism as a training ground for major literary works, and led breakthroughs in lesbian and alternative presses.
Whitt explores the lives of women reporters who achieved significant historical recognition, such as Ida Tarbell and Ida Wells-Barnett. Investigating the often blurry boundary between journalism and literature, she explains how this fluid distinction has actually limited how many scholars perceive the contributions of authors such as Joan Didion and Susan Orlean. Whitt also highlights the work of important novelists, including Willa Cather, Katherine Anne Porter, and Eudora Welty, to shed light on how their work as journalists informed their highly successful fiction.
This study also offers a survey of contributions women have made to the alternative presses, including the environmental press and civil rights activism. Whitt examines important figures in the early feminist press such as Caroline Churchill, editor and reporter for Denver's Queen Bee, and Betty Wilkins of Kansas City's Call. Finally, through newsletters, newspapers, magazines, and journals, she traces the history of the lesbian press and points out the ways in which it indicates that the alternative press is thriving.
About the Author
Jan Whitt is an associate professor in the School of Journalism and Mass Communication at the University of Colorado, Boulder, and the author of Allegory and the Modern Southern Novel.
Reviews
"Whitt writes with clarity and conviction. . . . Highly recommended."--
Choice
---
Blurbs
"A readable and comprehensive book on a subject that does need updating. Women in American Journalism makes an interesting contribution to the field and will be well read and appreciated by those interested in journalism history, women's studies, and journalism in general."--Marilyn S. Greenwald, author of A Woman of the Times: Journalism, Feminism, and the Career of Charlotte Curtis
---