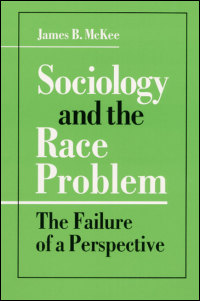 Sociology and the Race Problem
The Failure of a Perspective
Paper – $37
978-0-252-06328-2
Publication Date
Paperback: 01/01/1993
About the Book
Tracing developments in the sociology of race relations from the 1920s to the 1960s, McKee maintains that sociologists assumed the United States would move unimpeded toward modernization and assimilation, aided by industrialization and urbanization. The fatal flaw in their perspective was the notion that blacks were culturally inferior, backward, and pre-modern, a people who had lost their own culture and couldn't grasp that of their new society.
Designed to detail a failure the author says is widely acknowledged but little examined, this book will be of interest to both specialists and general readers.
"Masterful. . . . McKee transports the reader back to the intellectual world in which the early sociologists worked and does not simply treat them as evil racists. His approach is informed by the sociology of knowledge."
-- Lewis M. Killian, author of The Impossible Revolution, Phase 2: Black Power and the American Dream
Awards
Winner of the Distinguished Publication Award given by the American Sociological Association. Co-winner of the Scholarly Achievement Award given by the North Central Sociological Association.
---