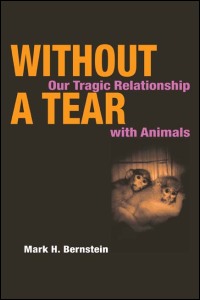 Without a Tear
Our Tragic Relationship with Animals
A clarion call for drastic revision of many of our most common practices involving animals
Paper – $28
978-0-252-07198-0
eBook – $19.95
978-0-252-09051-6
Publication Date: June 2004
About the Book
In
Without a Tear
Mark H. Bernstein begins with one of our most common and cherished moral beliefs: that it is wrong to intentionally and gratuitously inflict harm on the innocent. Over the course of the book, he shows how this apparently innocuous commitment requires that we drastically revise many of our most common practices involving nonhuman animals.
Most people who write about our ethical obligations concerning animals base their arguments on emotional appeals or contentious philosophical assumptions; Bernstein, however, argues from reasons but carries little theoretical baggage. He considers the issues in a religious context, where he finds that Judaism in particular has the resources to ground moral obligations to animals. Without a Tear also makes novel use of feminist ethics to add to the case for drawing animals more closely into our ethical world.
Bernstein details the realities of factory farms, animal-based research, and hunting fields, and contrasting these chilling facts with our moral imperatives clearly shows the need for fundamental changes to some of our most basic animal institutions. The tightly argued, provocative claims in Without a Tear will be an eye-opening experience for animal lovers, scholars, and people of good faith everywhere.
About the Author
Mark H. Bernstein is a professor of philosophy at the University of Texas at San Antonio and the author of two books, On Moral Considerability: An Essay on Who Morally Matters and Fatalism.
Awards
Choice Outstanding Academic Title, 2006.
---