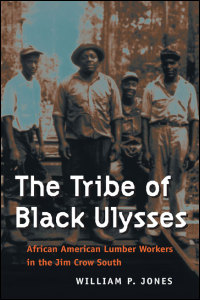 The Tribe of Black Ulysses
African American Lumber Workers in the Jim Crow South
Work and life for black industrial workers under segregation
Paper – $28
978-0-252-07229-1
Publication Date: April 2005
About the Book
The lumber industry employed more African American men than any southern economic sector outside agriculture. Yet little scholarship exists on these workers and their times.
William P. Jones merges interviews with archival sources to explore black men and women's changing relationship to industrial work in the southern sawmill communities of Elizabethtown, North Carolina; Chapman, Alabama; and Bogalusa, Louisiana. By placing black lumber workers within the history of southern industrialization, Jones reveals that industrial employment was another facet of the racial segregation and political disfranchisement that defined black life in the Jim Crow South. He also examines an older tradition of southern sociology that viewed industrialization as socially disruptive and morally corrupting to African American social and cultural traditions rooted in agriculture.
About the Author
William P. Jones is a professor in the Department of History at the University of Minnesota and author of The March on Washington: Jobs, Freedom and the Forgotten History of Civil Rights.
Awards
Winner of the H. L. Mitchell Award (2006) given by the Southern History Association and the Richard L. Wentworth Prize in American History (2005)
---