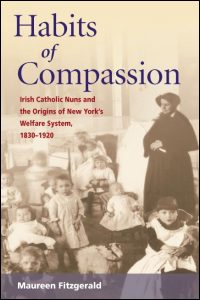 Habits of Compassion
Irish Catholic Nuns and the Origins of New York's Welfare System, 1830-1920
The Irish-Catholic Sisters' critical contributions to charitable care in America
Paper – $33
978-0-252-07282-6
Publication Date: February 2006
About the Book
The Irish-Catholic Sisters accomplished tremendously successful work in founding charitable organizations in New York City from the Irish famine through the early twentieth century. Maureen Fitzgerald argues that their championing of the rights of the poor—especially poor women—resulted in an explosion of state-supported services and programs.
Parting from Protestant belief in meager and means-tested aid, Irish Catholic nuns argued for an approach based on compassion for the poor. Fitzgerald positions the nuns' activism as resistance to Protestantism's cultural hegemony. As she shows, Roman Catholic nuns offered strong and unequivocal moral leadership in condemning those who punished the poor for their poverty and unmarried women for sexual transgression. Fitzgerald also delves into the nuns' own communities, from the class-based hierarchies within the convents to the political power they wielded within the city. That power, amplified by an alliance with the local Irish Catholic political machine, allowed the women to expand public charities in the city on an unprecedented scale.
About the Author
Maureen Fitzgerald is an associate professor of religious studies and American studies at the College of William and Mary.
Awards
Co-winner of the 2006 First Book Prize of the Berkshire Conference of Women Historians.
---