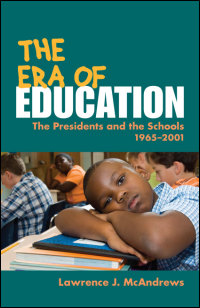 The Era of Education
The Presidents and the Schools, 1965-2001
The first comprehensive study of the politics and policies of public and nonpublic school aid and desegregation at the end of the twentieth century
Paper – $28
978-0-252-07579-7
eBook – $19.95
978-0-252-09185-8
Publication Date: Cloth: 2006; Paper: 2008
About the Book
This study of educational policy from Lyndon Johnson through Bill Clinton focuses on three specific issues--public school aid, non-public (especially Catholic) school aid, and school desegregation--that speak to the proper role of the federal government in education as well as to how education issues embody larger questions of opportunity, exclusion, and equality in American society. Lawrence J. McAndrews traces the evolution of policy as each president developed (or avoided developing) a stance toward these issues and discusses the repercussions and implications of policy decisions for the educational community over nearly four decades.
By drawing extensively on presidential and other archives, as well as interviews with key players, McAndrews is able to reconstruct the internal debates, negotiations, decisions, and non-decisions over policies, as well as the personal predispositions, political circumstances, and administrative dynamics that elevated a given issue to priority status under certain presidents while leaving it idle under others.
About the Author
Lawrence J. McAndrews is a professor of history at St. Norbert College in Wisconsin and the author of Broken Ground: John F. Kennedy and The Politics of Education.
Reviews
"Those who analyze the intersections of ideology, politics, and policy formation will find McAndrews's study to be as entertaining as it is instructive."--
The Historian
"Highly recommended."--
Choice
"A valuable contribution to our understanding of education today and in the last half of the twentieth century."--
Register of the Kentucky Historical Society
"An exhaustively detailed history and absolute 'must read' for any parent, educator, or political professional concerned about the future of local and national educational policy. Highly recommended."--
Wisconsin Bookwatch
"Those who analyze the intersections of ideology, politics, and policy formation will find McAndrews's study to be as entertaining as it is instructive."--
The Historian
---
Blurbs
"As the controversy over the No Child Left Behind Act indicates, federal education policy continues to be a matter of substantial public interest. This engagingly written and thoroughly researched study is an impressive piece of scholarship and provides an excellent reference source for everyone interested in these crucial debates over the nation's future."--Leland Ware, Louis L. Redding Chair and Professor of Law & Public Policy, University of Delaware

"By focusing on the role that seven recent American Presidents have had in shaping education policy, McAndrews is able to ferret out the nuanced, complex, ironic, and in some ways tragic history of three incredibly important social issues since the Lyndon B. Johnson years: public school aid, nonpublic school aid, and school desegregation. In so doing, McAndrews has forged the groundwork for a new master narrative in the history of American schools, a narrative that has national politics at its core. By connecting schools to Presidents, McAndrews has done historians, politicians, and educators of all kinds a great service. Those who study or directly deal with 'accountability,' 'vouchers,' and 'high-stakes testing,' will want to read this book. Truly without knowing the history of these political battles, how can a nation forge its future education system?"--Andrew E. Kersten, author of Race, Jobs, and the War: The FEPC in the Midwest, 1941-46

"There is no competition for McAndrews' gracefully written and unique study of how American presidents from Johnson through Clinton have dealt with K-12 educational issues."--Abigail Thernstrom, senior fellow at the Manhattan Institute and member of the Massachusetts State Board of Education
---