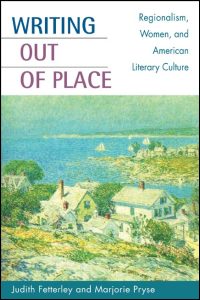 Writing out of Place
Regionalism, Women, and American Literary Culture
Locating the resistant discourse of women's writing in often surprising places
Paper – $23
978-0-252-07258-1
Publication Date: 2005
About the Book
In
Writing out of Place,
Judith Fetterley and Marjorie Pryse explore a countertradition of nineteenth–century writing previously ignored by American literary history that challenged the definition of nation and literature that emerged after the Civil War.
Regionalist writers such as Alice Cary, Mary E. Wilkins Freeman, Sarah Orne Jewett, Grace King, Alice Dunbar–Nelson, Sui Sin Far, and Mary Austin present narrators who serve as cultural interpreters for persons often considered "out of place" by urban readers. Critiquing the approaches to regional subjects characteristic of local color, this book gives contemporary readers a vantage point from which to approach regions and regional people in the global economy of our own time.
Reclaiming the ground of "close" reading for texts that have been insufficiently read, Fetterley and Pryse situate textual analyses within larger questions such as the ideology of form, feminist standpoint epistemology, queer theory, intersections of race and class, and narrative empathy. In its combination of the critical and the visionary, Writing out of Place proposes regionalism as a model for narrative connection between texts and readers that has the potential to transform American literary culture. Arguing the need for other models for human development than those produced in heroic stories about men and boys, the authors offer regionalism as a source of unconventional and counterhegemonic fictions that should be passed on to future generations of readers.
About the Author
Judith Fetterley is Distinguished Teaching Professor of English and women's studies at the University at Albany, SUNY. The author of Resisting Reader: A Feminist Approach to American Fiction and numerous scholarly articles, she is also the editor of Provisions: A Reader from Nineteenth-Century American Women. Marjorie Pryse is a professor of English and women's studies at the University at Albany, SUNY. Among her books are American Women Regionalists, 1850-1910: A Norton Anthology, coedited with Judith Fetterley, and Conjuring: Black Women, Fiction, and Literary Tradition, coedited with Hortense Spillers.
---