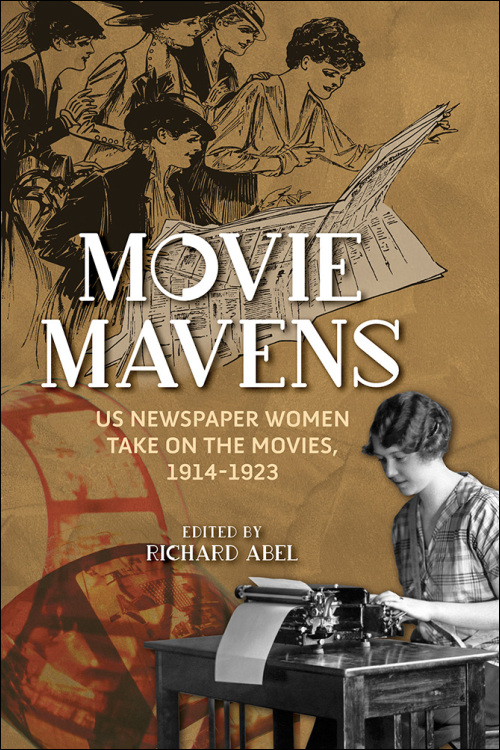 Movie Mavens
US Newspaper Women Take On the Movies, 1914-1923
An anthology of women's writing from the early era of film
Cloth – $110
978-0-252-04397-0
Paper – $28
978-0-252-08604-5
eBook – $19.95
978-0-252-05290-3
Publication Date
Paperback: 10/12/2021
Cloth: 10/12/2021
About the Book
During the early era of cinema, moviegoers turned to women editors and writers for the latest on everyone's favorite stars, films, and filmmakers. Richard Abel returns these women to film history with an anthology of reviews, articles, and other works. Drawn from newspapers of the time, the selections show how columnists like Kitty Kelly, Mae Tinee, Louella Parsons, and Genevieve Harris wrote directly to female readers. They also profiled women working in jobs like scenario writer and film editor and noted the industry's willingness to hire women. Sharp wit and frank opinions entertained and informed a wide readership hungry for news about the movies but also about women on both sides of the camera. Abel supplements the texts with hard-to-find biographical information and provides context on the newspapers and silent-era movie industry as well as on the professionals and films highlighted by these writers. 
An invaluable collection of rare archival sources, Movie Mavens reveals women's essential contribution to the creation of American film culture.
About the Author
Richard Abel is a professor emeritus of international cinema and media studies at the University of Michigan. His recent books include Menus for Movie Land: Newspapers and the Emergence of American Film Culture, 1913-1916, and Motor City Movie Culture, 1916-1925. He is also the coeditor of Barbara C. Hodgdon's writings, Ghostly Fragments and the 2017 winner of the Jean Mitry Award.
Reviews
"With a scholar's knack for detail, Abel provides context for this crucial period of cinema history. An illuminating combination of scholarship and nostalgia." --
Library Journal
---
Blurbs
"A revelation! From snarky hard-talking dames to tartly respectable scholars, Movie Mavens recovers the diverse and compelling voices of the legions of newspaper women who wrote about movies during the tumultuous 1910s and early 1920s. An invaluable resource from a model film historian."--Laura Horak, author of Girls Will Be Boys: Cross-Dressed Women, Lesbians, and American Cinema, 1908-1934
---