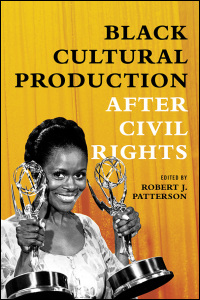 Black Cultural Production after Civil Rights
The artistic response to triumph and ongoing struggle in the 1970s
Cloth – $110
978-0-252-04277-5
Paper – $26
978-0-252-08460-7
eBook – $19.95
978-0-252-05163-0
Publication Date
Paperback: 09/02/2019
Cloth: 09/02/2019
About the Book
The post-civil rights era of the 1970s offered African Americans an all-too-familiar paradox. Material and symbolic gains contended with setbacks fueled by resentment and reaction. African American artists responded with black approaches to expression that made history in their own time and continue to exercise an enormous influence on contemporary culture and politics.
This collection's fascinating spectrum of topics begins with the literary and cinematic representations of slavery from the 1970s to the present. Other authors delve into visual culture from Blaxploitation to the art of Betye Saar to stage works like A Movie Star Has to Star in Black and White as well as groundbreaking literary works like Corregidora and Captain Blackman. A pair of concluding essays concentrate on institutional change by looking at the Seventies surge of black publishing and by analyzing Ntozake Shange's for colored girls. . . in the context of current controversies surrounding sexual violence. Throughout, the writers reveal how Seventies black cultural production anchors important contemporary debates in black feminism and other issues while spurring the black imagination to thrive amidst abject social and political conditions.
Contributors: Courtney R. Baker, Soyica Diggs Colbert, Madhu Dubey, Nadine Knight, Monica White Ndounou, Kinohi Nishikawa, Samantha Pinto, Jermaine Singleton, Terrion L. Williamson, and Lisa Woolfork
About the Author
Robert J. Patterson is a professor of African American Studies and served as the inaugural chair of the Department of African American Studies at Georgetown University. He is the author of Destructive Desires: Rhythm and Blues Culture and the Politics of Racial Equality.
Reviews
"The essays gathered here speak to one another in remarkable ways, both because of the authors' commitment to the material and the editor's guidance. This volume is required reading for anyone seeking to understand the complexities and influences of African American culture in the 1970s." --
Choice
"A harmoniously blended symphony in the interests of Black folks, culture, and justice." --
Ethnic and Racial Studies
"A deeply presentist examination of a rich, dynamic 1970s." --
Journal of American History
"
Black Cultural Production
is remarkably cohesive. References and texts that recur from one essay to the next reinforce rather than duplicate each other and suggest a collaborative dialogue." --
Journal of African American History
---
Blurbs
"Deeply informed and persuasively argued, this wide-ranging yet cohesive collection of original essays illuminates the inter-workings of black activism and expressive culture in and beyond the 1970s. With its rigorous historical contextualization and compelling commentary on how the 1970s anticipated and influenced our own moment, Black Cultural Production After Civil Rights is sure to become an invaluable resource for contemporary scholars working in the fields of African American literature and print culture; film studies; popular culture; feminist history and theory; and trauma and memory studies."--Aida Levy-Hussen, author of How to Read African American Literature: Post-Civil Rights Fiction and the Task of Interpretation

"This wide-ranging collection of essays on literature, feminism, performance, publishing, Black Power, and the afterlife of slavery brings depth and texture to our studies of the post-civil rights era. As Black artists and activists mounted calls to liberation in the 1970s, they also faced a mushrooming carceral industry, white supremacist violence, and the rise of neoliberalism. This urgent and refreshing text returns our attention to that volatile decade and to the ways cultural production provided the vital means for engaging with and reimagining the world."--Erica R. Edwards, author of Charisma and the Fictions of Black Leadership
---