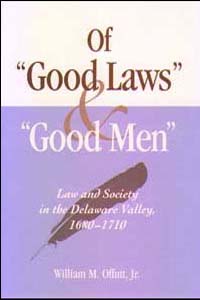 Of "Good Laws" and "Good Men"
Law and Society in the Delaware Valley, 1680-1710
Cloth – $46
978-0-252-02152-7
Publication Date
Cloth: 01/01/1995
About the Book
"Represents the best in the newest way of thinking about Colonial legal history." -- David Thomas Konig, author of Law and Society in Puritan Massachusetts: Essex County, 1626-92
Of "Good Laws" and "Good Men" reveals how a Quaker minority in the Delaware Valley used the law to its own advantage yet maintained the legitimacy of its rule.
William Offutt, Jr., places legal processes at the center of this region s social history. The new societies established there in the late 1600s did not rely on religious conformity, culture, or a simple majority to develop successfully, Offutt maintains. Rather, they succeeded because of the implementation of reforms that gave the expanding population faith in the legitimacy of legal processes implemented by a Quaker elite. Offutt's painstaking investigation of the records of more than 2,000 civil and 1,100 criminal cases in four county courts over a thirty-year period shows that Quakers--the "Good Men"--were disproportionately represented as justices, officers, and jurors in this system of "Good Laws" they had established, and that they fared better than did the rest of the population in dealing with it.
---