Middle Eastern Studies
Volume 1: Asia, Africa, and the Middle East
Author: Edited by Michael J. Pfeifer
Pub Date: March 2017

Manifestations of mob violence in history and around the world learn more...


The Origins of an Authoritarian Neoliberal State
Author: Bilge Yesil
Pub Date: July 2016

How Turkey's media environment reflects the country's dynamic political, economic, social, and cultural landscapes learn more...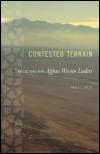 Reflections with Afghan Women Leaders
Author: Sally L. Kitch
Pub Date: November 2014

A provocative exploration of women's lives in today's Afghanistan learn more...

Author: Edited by Bonnie G. Smith
Pub Date: September 2004

Top scholars on the major issues in women's history around the world learn more...

vol. 1: The First through the Seventeenth Dynasties
Author: Translated and Edited by James Henry Breasted
Pub Date: June 2001

The first paperback edition of the monumental assemblage by the father of American Egyptology of all the historical "documents" of ancient Egypt learn more...