Page:
1
2
Science Fiction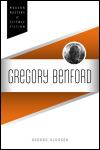 Author: George Slusser
Pub Date: February 2014

A scientist-author at the heart of hard science fiction learn more...

Author: Jad Smith
Pub Date: February 2013

The parallel worlds of a prolific science fiction master learn more...

Author: Gary Westfahl
Pub Date: August 2013

A pioneering full-length study of the creator of cyberpunk learn more...

Page:
1
2