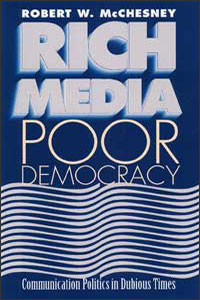 Rich Media, Poor Democracy: Communication Politics in Dubious Times
Communication Politics in Dubious Times
Awards and Recognition:
Winner of the Goldsmith Book Prize, 1999. Recipient of the Frank Luther Mott-Kappa Tau Alpha Research Award, 1999. Winner of the ICA Fellows Book Award, 2008.
The tightening corporate stranglehold on democracy
Long seen as a bedrock of democracy and freedom, the media have in fact become a significant antidemocratic force in the United States and around the world. The corporate media explosion has set off a corresponding implosion of public life that characterizes a perilous present—and threatens our future.
Robert McChesney's acclaimed analysis of corporate media and its undermining of democracy challenges the myths and assumptions that, at bedrock, serve corporate elites and their political allies. McChesney chronicles the waves of media mergers and acquisitions in the late 1990s. He reviews the corrupt and secretive enactment of public policies surrounding the Internet, digital television, and public broadcasting and argues that the major beneficiaries of the so-called Information Age are wealthy investors, advertisers, and a handful of enormous media, computer, and telecommunications corporations. As McChesney shows, powerful myths limit our ability to grasp the real nature and logic of the media system. To guarantee our freedoms, citizens must organize politically to restructure the media in ways that secure the independence of a free press and reaffirm its connection to democracy.
---
"McChesney . . . provokes an absolutely necessary discussion on the relationship between the control of information and our hopes for a genuine democracy."--Howard Zinn

"McChesney argues persuasively that whatever journalists' personal politics, the media's dominant ideology is pro-market and business class-biased and rests on the assumption that the news business works just fine. It takes a nonjournalist like McChesney to get the big picture."--Russ Baker, Los Angeles Times

"[He] has gone to the heart of the matter. The best stuff in McChesney's book is not just how it happened but what the results are in terms of quality."--Molly Ivins
---
To order online:
//www.press.uillinois.edu/books/catalog/22qxm7kq9780252024481.html
To order by phone:
(800) 621-2736 (USA/Canada)
(773) 702-7000 (International)
Related Titles