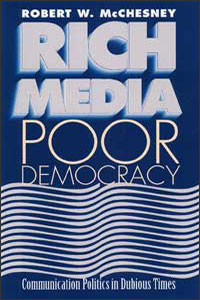 Rich Media, Poor Democracy: Communication Politics in Dubious Times
Communication Politics in Dubious Times
Awards and Recognition:
Winner of the Goldsmith Book Prize, 1999. Recipient of the Frank Luther Mott-Kappa Tau Alpha Research Award, 1999. Winner of the ICA Fellows Book Award, 2008.
Robert McChesney argues that the media, far from providing a bedrock for freedom and democracy, have become a significant antidemocratic force in the United States and, to varying degrees, worldwide.
Rich Media, Poor Democracy addresses the corporate media explosion and the corresponding implosion of public life that characterizes our times. Challenging the assumption that a society drenched in commercial information "choices" is ipso facto a democratic one, McChesney argues that the major beneficiaries of the so-called Information Age are wealthy investors, advertisers, and a handful of enormous media, computer, and telecommunications corporations. This concentrated corporate control, McChesney maintains, is disastrous for any notion of participatory democracy.
Combining unprecedented detail on current events with historical sweep, McChesney chronicles the waves of media mergers and acquisitions in the late 1990s. He reviews the corrupt and secretive enactment of public policies surrounding the Internet, digital television, and public broadcasting. He also addresses the gradual and ominous adaptation of the First Amendment ("freedom of the press") as a means of shielding corporate media power and the wealthy.
Rich Media, Poor Democracy exposes several myths about the media—in particular, that the market compels media firms to "give the people what they want"— that limit the ability of citizens to grasp the real nature and logic of the media system. If we value our democracy, McChesney warns, we must organize politically to restructure the media in order to affirm their connection to democracy.
"McChesney . . . provokes an absolutely necessary discussion on the relationship between the control of information and our hopes for a genuine democracy."--Howard Zinn
---
To order online:
//www.press.uillinois.edu/books/catalog/22qxm7kq9780252024481.html
To order by phone:
(800) 621-2736 (USA/Canada)
(773) 702-7000 (International)
Related Titles