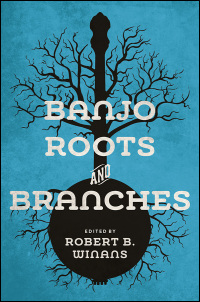 Banjo Roots and Branches
Awards and Recognition:
• Nicholas Bessarboss Prize, American Musical Instrument Society, 2020
West African precursors, African-Caribbean origins, North American journeys
The story of the banjo's journey from Africa to the western hemisphere blends music, history, and a union of cultures. In Banjo Roots and Branches, Robert B. Winans presents cutting-edge scholarship that covers the instrument's West African origins and its adaptations and circulation in the Caribbean and United States. The contributors provide detailed ethnographic and technical research on gourd lutes and ekonting in Africa and the banza in Haiti while also investigating tuning practices and regional playing styles. Other essays place the instrument within the context of slavery, tell the stories of black banjoists, and shed light on the banjo's introduction into the African- and Anglo-American folk milieus.
Wide-ranging and illustrated with twenty color images, Banjo Roots and Branches offers a wealth of new information to scholars of African American and folk musics as well as the worldwide community of banjo aficionados.
Contributors: Greg C. Adams, Nick Bamber, Jim Dalton, George R. Gibson, Chuck Levy, Shlomo Pestcoe, Pete Ross, Tony Thomas, Saskia Willaert, and Robert B. Winans.
---
"Winans makes a rich addition to the literature. Recommended." --Choice



"An excellent book with plenty of material for both specialist and casual readers." --Galpin Society Journal

"Roots and Branches collects an extraordinary amount of research into the ongoing discovery of the banjo's Byzantine history. . . .Each essay speaks directly to all others, lending the book an unusual level of cohesion for an edited volume." --The World of Music

"Banjo Roots and Branches is a comprehensively researched and pathbreaking piece of banjo roots scholarship. " --Music in American Life

"Anyone with a strong interest in the early history of the banjo or in the broader history of American instrumental music in oral tradition will want a copy of this fine collection. All the work is imaginative, careful, and thoroughly documented. The essays flow smoothly." --Western Folklore

"A significant contribution to our understanding of the history and current significance of the banjo." --Ethnomusicology
"Inspired by Dena Epstein, this is the first book to use a holistic approach in exploring the history of the banjo; it is an excellent compilation of articles for those interested in the music of Africa and the Americas."--Jacqueline Cogdell DjeDje, author of Fiddling in West Africa: Touching the Spirit in Fulbe, Hausa, and Dagbamba Cultures

"As far as I know this book has no real equivalents. Several of the essays are pioneering contributions to the esoteric but intriguing field of banjo research and folklore and ethnomusicology generally."--Robert S. Cantwell, author of Bluegrass Breakdown: The Making of the Old Southern Sound
Publication of this book was made possible in part through a donation from the Uncle Shlomo's Brooklyn Kids Fund for Music, dedicated to ensuring that Shlomo Pestcoe's generous spirit will continue to enrich us with the music he so loved to share, and by a grant from the L. J. and Mary C. Skaggs Folklore Fund.
---
To order online:
//www.press.uillinois.edu/books/catalog/23cnd4ft9780252041945.html
To order by phone:
(800) 621-2736 (USA/Canada)
(773) 702-7000 (International)
Related Titles