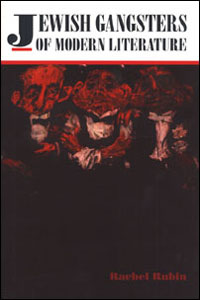 Jewish Gangsters of Modern Literature
A look at the Jewish gangster between the wars (focusing on the Russian writer, Isaac Babel, and Americans Gold, Ornitz, and Fuchs but also taking into consideration cartoons, movies, and modernist painting), Rubin sees the "gangster" as a way Jewish writers could examine their place in world literature.
In this vividly written study, Rachel Rubin posits the Jewish literary gangster--a figure whose violence, transgressiveness, and ongoing internal conflict render him an important symbol of modernity--as a locus for exploring questions of artistic power in the interwar years. Focusing specifically on the Russian writer Isaac Babel and Americans Mike Gold, Samuel Ornitz, and Daniel Fuchs, but also taking in cartoons, movies, and modernist paintings, Rubin casts the Jewish gangster as a favorite figure used by left-wing Jewish writers to examine their own place in world history.
Rubin contends that these writers saw their artistic endeavors as akin to the work of their gangster doubles: outcasts and rebels "kneebreaking" their way into the literary canon while continuing to "do business" with the system. In the hands of Jewish literary communists--themselves engaged in transgressing cultural boundaries--the figure of the Jewish gangster provides an occasion to craft a virile Jewish masculinity, to consider the role of vernacular in literature, to interrogate the place of art within a political economy, and to explore the fate of Jewishness in the "new worlds" of the United States and the Soviet Union.
In addition to tracing the transformation of a Russian folk hero into a pivotal figure in American literature, Jewish Gangsters of Modern Literature argues persuasively for inducting these leftist writers--with their interest in the literary gangster who boldly challenges the social and economic hierarchy--into the circle of experimental modernists that has hitherto excluded them. :
---
"A dazzling contribution to the project of reclaiming Jewish radical fiction of the twentieth century. Rachel Rubin moves with ease, erudition, and lively wit between 'high' and 'low' cultural regions, Left-wing urban realism and elite high modernism, and the ghettos of New York and underworld of pre- and post-revolutionary Russia to explore the gangster as metaphor for the Jewish writer." -- Alan Wald, author of Writing from the Left
"Writers who employed the image of the Jewish gangster did so in different ways. But Rachel Rubin has extracted from them an interesting chapter in the history of Jewish adaptation to modernity. " -- Hyam Maccoby, The Times Literary Supplement
"Brilliantly and authoritatively initiates a needed analysis of the neglected subject of the motif of the Jewish gangster in life and literature." -- Sam B. Girgus, American Literature
"A smart, fresh look at several previously neglected modernists." -- Daniel Morris, Modern Fiction Studies
To order online:
//www.press.uillinois.edu/books/catalog/23xtg2bs9780252025396.html
To order by phone:
(800) 621-2736 (USA/Canada)
(773) 702-7000 (International)
Related Titles