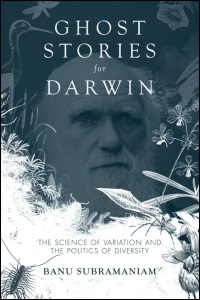 Ghost Stories for Darwin
The Science of Variation and the Politics of Diversity
Awards and Recognition:
• Ludwik Fleck Prize, Society for Social Studies of Science, 2016
• A Choice Outstanding Academic Title, 2015
A wide-ranging meditation on differences and diversity in the sciences
In a stimulating interchange between feminist studies and biology, Banu Subramaniam explores how her dissertation on flower color variation in morning glories launched her on an intellectual odyssey that engaged the feminist studies of sciences in the experimental practices of science by tracing the central and critical idea of variation in biology.
Subramaniam reveals the histories of eugenics and genetics and their impact on the metaphorical understandings of difference and diversity that permeate common understandings of differences among people exist in contexts that seem distant from the so-called objective hard sciences. Journeying into interdisciplinary areas that range from the social history of plants to speculative fiction, Subramaniam uncovers key relationships between the life sciences, women's studies, evolutionary and invasive biology, and the history of ecology, and how ideas of diversity and difference emerged and persist in each field.
---
"Subramaniam uses a combination of personal reflections, cultural parables, and scientific case studies to present an engaging, thought-provoking discussion about the assumptions that shape how science is done. Essential."--Choice

"Ghost Stories for Darwin offers a road map for how to bridge science and the humanities and conduct research that is reflective of our nonbinary, nondisciplinary world. . . . Ghost Stories for Darwin is a remarkable and uncommon journey into understanding science and the scientific process, and it will be useful to a range of scholars across disciplines, as well as to all who wish to understand the practice of science as a social enterprise."--Journal of the History of Sexuality

"This monograph's style will most likely astonish readers new to Subramaniam's signature, lyrical approach to mediating disciplinary trench warfare. Through inventive genre and style remixes, she deftly interweaves forgotten social and political histories about morning glory flowers, autobiographical testimonies, parables, and 'fictional sciences,' media and narrative analyses, focus group findings, and experimental field biology results. . . . Throughout, there are many moments of revelatory friction, enough potentially to start a fiery revolution."--Asian Biotechnology and Development Review

"Ghost Stories for Darwin is a radically interdisciplinary feminist treatment of the scientific concept of 'variation' and the social and political concept of 'diversity.' . . . The book is, among other things, an invitation to feminism to engage science's proper objects."--hypatia reviews online

"This monograph's style will most likely astonish readers new to Subramaniam's signature, lyrical approach to mediating disciplinary trench warfare. Through inventive genre and style remixes, she deftly interweaves forgotten social and political histories about morning glory flowers, autobiographical testimonies, parables and 'fictional sciences,' media and narrative analyses, focus group findings, and experimental field biology results. . . . Throughout, there are many moments of revelatory friction, enough potentially to start a fiery revolution."--Asian Biotechnology and Development Review


"Morning glories and feminists are transported in this book from separate planets to cohabit in the dangerous asteroid belts of co-shaped diversity, variation and difference. Introduced to the bumptious players in Subramaniam's astute histories of sciences of eugenics, biogeography and variation, we hear the ghost stories Darwin enabled, as well as those he might have told but couldn't quite. Perhaps not so strangely, a kinship of concepts, narratives, traps, and potentials for richer knowledges that are necessary both to evolutionary biology and to women's studies shapes these tales of traveling aliens and natives, suggesting something else that is neither. Nature is culture; culture is nature; science tells us so especially in the currencies of gender and race. Tuned to women in science in many senses, Subramaniam's Ghost Stories for Darwin destabilizes the old exchange rates and proposes instead a wealth of narratives and experimental conceptual and laboratory practices for finally doing evolutionary biology, ecology and women's studies together. Learning to inherit a haunted past but not stopping with critique, Ghost Stories proposes practices for academic sciences to take up in all their variety, among the fields of morning glories planted for diverse, differently powerful, less ravaged naturecultures."--Donna J. Haraway, author of When Species Meet

"Trained as a plant biologist with a deep interest in feminist science studies, Prof. Subramanian has produced a brave and novel book about the intersections of these fields through the lens of her study of variation in flower color in morning glories. She takes the reader on a fascinating personal journey through nature and culture to illuminate the complexities of diversity and difference in science and society. This is an important work that should appeal to a wide audience interested in interdisciplinary science studies."--Evelynn M. Hammonds, Barbara Gutmann Rosenkrantz Professor of the History of Science, Harvard University

"A provocative and revelatory work that examines important aspects of the racialized and gendered logics haunting contemporary debates about inclusion/exclusion in the sciences and society . . . Subramaniam makes a persuasive argument that scientists and women's studies scholars must take each other's work more seriously by combining sound scientific practice and transnational feminist social justice principles to imagine a vivid alternative 'futureworld' of science. Subramaniam's incisive critique and engaging vision of an alternative future are invaluable for everyone interested in producing socially responsible science."--Carole McCann, coeditor of Feminist Theory Reader: Local and Global Perspectives

"Ghost Stories for Darwin is simultaneously a brilliant piece of scholarship and a series of beautifully written stories of natureculture. Evolutionary biologist and feminist science studies scholar Banu Subramaniam provides us a vision for interdisciplinary research that integrates natural sciences expertise with methodologies of the humanities and generates complex, multidimensional, and historicized knowledges that are ultimately just."--Chikako Takeshita, author of The Global Biopolitics of the IUD: How Science Constructs Contraceptive Users and Women's Bodies
---
To order online:
//www.press.uillinois.edu/books/catalog/24mxq3dr9780252038655.html
To order by phone:
(800) 621-2736 (USA/Canada)
(773) 702-7000 (International)