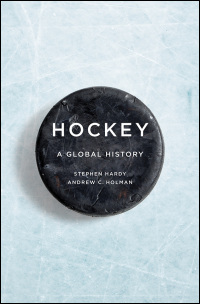 Hockey
A Global History
Awards and Recognition:
• Paul Kitchen Award, Society for International Hockey Research, 2019
Cold steel, cold war, and the epic of hockey
Long considered Canadian, ice hockey is in truth a worldwide phenomenon--and has been for centuries. In Hockey: A Global History, Stephen Hardy and Andrew C. Holman draw on twenty-five years of research to present THE monumental end-to-end history of the sport.
Here is the story of on-ice stars and organizational visionaries, venues and classic games, the evolution of rules and advances in equipment, and the ascendance of corporations and instances of bureaucratic chicanery. Hardy and Holman chart modern hockey's "birthing" in Montreal and follow its migration from Canada south to the United States and east to Europe. The story then shifts from the sport's emergence as a nationalist battlefront to the movement of talent across international borders to the game of today, where men and women at all levels of play lace 'em up on the shinny ponds of Saskatchewan, the wide ice of the Olympics, and across the breadth of Asia.
Sweeping in scope and vivid with detail, Hockey: A Global History is the saga of how the coolest game changed the world--and vice versa.
---
"Hockey: A Global History is a major hit. . . . If you want to delve deep into the sport you love and have an interest in being educated and immersing yourself in a great story, it is for you and you'll enjoy it." --HockeyWriters

"Hardy and Holman provide a highly readable account of the story of hockey. Recommended." --Choice

"This is a book that should be on every bookshelf for sports fans and a definite must for hockey aficionados." --KNUP Sports

"Hockey: A Global History is a complex and well-researched book that deserves the attention of scholars, hockey enthusiasts and all others with an inquiring mind." --Central European Journal of Canadian Studies

"Their expansive and very detailed study of hockey's evolution, structures, and culture is required reading. . . . The library of the sport's literature is an extensive one, but there's nothing in it like their Hockey: A Global History." --H-Net Review

"Hardy and Holman write a gracious prose, that draws upon essential scholarly works as well as popular and contemporary first hand sources from different parts of the world, which makes for a seamless and engaging account for academics and avid hockey fans alike." --idrottsforum.org

"This is a book—well-written, accessible, lucid, and compelling—that is teeming with ideas and deserving of a wide readership." --International Journal of the History of Sport

"In 23 chapters, the two authors, historians, American and Canadian, succeed in bringing together the state of the art of historiography on the sport and providing a long-needed global narrative that other scholars will be able to benefit from for years to come." --Social History

"Hockey: A Global History helps the reader further understand and push beyond his or her viewpoint of the history of hockey by offering a vast range of pivotal moments, shifts, perspectives, and insights related to the social, cultural, political, and economic background of global hockey development." --Journal of Sport History
"Hardy and Holman provide an original and compelling narrative of the global spread of hockey, drawing upon the scholarly and popular literature from many different countries, cultures, and perspectives. It's ambitious, comprehensive, seamless, and highly readable--an extraordinary contribution."--Bruce Kidd, author of 'Critical Support' for Sport

"As a hockey fan and scholar who enjoys learning something new about the sport, this book captured my imagination. Hardy and Holman's storytelling style and seamless scholarly commentary create an engaging account for hockey devotees and academics alike. Their explanations of convergence and divergence in the game leave me asking—when is the next pivotal shift in hockey going to happen, and what change will it bring to the game?" --Julie Stevens, Brock University

"This book is truly amazing! I've been involved in hockey all my life and I didn't realize all of the history behind it. A great read for all hockey fans and anyone wanting to learn more about a sport that speaks to people in all corners of the world."--Karyn Bye Dietz, 1998 Olympic Gold Medalist

"This book captures the sport of hockey from its beginnings throughout the world and how it has evolved into the great international sport that we have today. A must-read for anyone with a passion for hockey."--Bill Cleary, 1960 Olympic gold medalist

"Hardy and Holman have produced a classic world overview of our sport. It will unquestionably stand for years to come."--Roger A. Godin, former executive director, United States Hockey Hall of Fame

"Founded on scholarly research and several years in the making, it should be on the bookshelf of every student of hockey. In four sections it tracks the origins of the sport from pre-1877 folk games to the beginnings of 'corporate hockey' in the 1970s. Based on themes such as 'convergence and divergence,' the two authors are to be congratulated for such an in-depth analysis of key moments in the story of hockey both in North America and internationally."--Martin C. Harris, author of The British Ice Hockey Hall of Fame

"This study of hockey is an exhaustive history of the nearly 150-year trajectory of Canada's great contribution to the world. But it is more than that. Hardy and Holman provide a fascinating tour of hockey's development over time, as it became a truly global sport. In the process, they take the reader to times and places as varied as the old Soviet Union, Finland, and Israel. Hockey: A Global History is full of insights on the politics, economics, and culture of this great game. It's a fascinating read for players, fans, experts, and novices alike."--Jeff Frieden, Harvard University
---
To order online:
//www.press.uillinois.edu/books/catalog/24qbh7by9780252042201.html
To order by phone:
(800) 621-2736 (USA/Canada)
(773) 702-7000 (International)
Related Titles