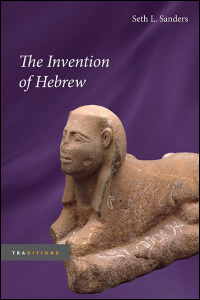 The Invention of Hebrew
Awards and Recognition:
Awarded the Frank Moore Cross Award, presented by the American Schools of Oriental Research (ASOR), 2010. Finalist in Scholarship category of the 2009 National Jewish Book Awards.
How choosing a language created a people
The Invention of Hebrew is the first book to approach the Bible in light of recent epigraphic discoveries on the extreme antiquity of the alphabet and its use as a deliberate and meaningful choice. Hebrew was more than just a way of transmitting information; it was a vehicle of political symbolism and self-representation.
Seth L. Sanders connects the Bible's distinctive linguistic form--writing down a local spoken language--to a cultural desire to speak directly to people, summoning them to join a new community that the text itself helped call into being. Addressing the people of Israel through a vernacular literature, Hebrew texts reimagined their audience as a public. By comparing Biblical documents with related ancient texts in Hebrew, Ugaritic, and Babylonian, this book shows Hebrew's distinctiveness as a self-conscious political language. Illuminating the enduring stakes of Biblical writing, Sanders demonstrates how Hebrew assumed and promoted a source of power previously unknown in written literature: "the people" as the protagonist of religion and politics.
---
"An important monograph that synthesizes much previous work yet arrives at an original and provocative understanding of the influence of the development of the Hebrew script and its associated scribal culture on the formation of biblical literature."--H-Judaic

"Revolutions in scholarship do not usually begin with new discoveries, but with new ways of looking at long-known facts. Whether this is still possible in biblical studies is the question. . . . But the realization is dawning that Seth Sanders has done something special."--Nederlands Dagblad

"Sanders's analysis of West Semitic epigraphic sources moves significantly beyond philological analysis (without leaving it behind) to engage philosophy, political and social theory, and religious studies more broadly. . . . His ability to scour the epigraphic record for evidence of social history and to set his findings in such a broad intellectual framework is a major contribution. . . . This book will remain extremely valuable for the way it conceptualizes the creation of biblical literature in new ways and in light of largely unmined data."--Journal of Religion

"A thought-provoking social history of writing, combining philology, anthropology, and political theory. Sanders's overarching claim is that the rise of written vernacular forms in the Iron Age Levant--ultimately, the Bible itself--signals a new mode of political communication, one that introduced a new actor into history, namely, the people. . . . Sanders's central thesis is compelling and important."--Shofar

"Nearly every page of this book contains gems of epigraphic interpretation: from an illuminating study of the Ugaritic ritual of national unity in relation to the biblical scapegoat ritual to elucidating treatments of the bureaucratically useless Gezer calendar and the politically significant morphology of the letter yod."--Journal of the American Oriental Society
"An absolutely innovative way of reading the use of ancient Hebrew for generating political identity and for understanding the Hebrew Bible itself. It is refreshing to see such profound insight and analyses come out of material that has otherwise not received substantial recognition of its cultural and political importance."--Mark S. Smith, author of God in Translation: Deities in Cross-Cultural Discourse in the Biblical World

"Sanders takes familiar, long-studied material and makes new knowledge. He treats biblical Hebrew as a political phenomenon, exploring how language and especially its written form were employed in the creation of an imagined community--a nation--in the course of ancient Israel's history."--Eva von Dassow, author of State and Society in the Late Bronze Age: Alalah under the Mittani Empire
---
To order online:
//www.press.uillinois.edu/books/catalog/25gpe5nz9780252032844.html
To order by phone:
(800) 621-2736 (USA/Canada)
(773) 702-7000 (International)
Related Titles