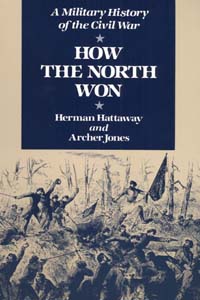 How the North Won
A Military History of the Civil War
Awards and Recognition:
Winner of the Bell I. Wiley Prize of the National Historical Society, 1985.
An accessible history of Civil War strategy on both sides of the conflict
How the North Won offers the acolyte and the expert alike an elementary, instructive, readable military account of the American Civil War. Throughout, the authors thoroughly explain the basic concepts of war as well as its conduct, management, and support. Examples of concepts drawn from the actual conflict make clear what many authors assume readers already know. Hattaway and Jones emphasize strategy logistics over tactics to tell the military history of the war from the viewpoint of the commanders on both sides. "Strategy, management, and execution weigh more than superior numbers and resources in dictating the outcomes of wars," the authors tell us, "and the Civil War is no exception. The weaker side can win." Hattaway and Jones show how the South almost did.
---
"This is superb military history: analytic, comprehensive, discursive, controversial in the best sense and always stimulating . . . a book which has been and will be read and reread by students of the War, for information, fresh interpretation, and sheer enjoyment."--Dudley T. Cornish, Military Affairs

"This excellent narrative is perhaps the best single-volume account of the war, and it contradicts many time-accepted works by major authors. . . . Anyone who has even the slightest interest in the Civil War will enjoy this fast-moving narrative."--Major Thomas J. Waraksa, Military Review

"[With] this stimulating and insightful book . . . Hattaway and Jones have ensured for themselves a place in the Civil War strategic debate for years to come."--William C. Davis, Journal of American History

"Those who read it with the attention and appreciation it deserves will want to keep it in order to reread it, either in whole or in part. Chances are it will become one of those Civil War books deemed indispensable."--Albert Castel, Civil War Times Illustrated

"The beginning student of Civil War military history will find the work an unmatched guide to how the war was fought in the mid-nineteenth century. Anyone already well versed in Civil War history will find immensely stimulating the authors' interpretations of Union and Confederate strategy, interpretations that will have to be grappled with by all subsequent historians of the subject."--Russell F. Wigley, Indiana Magazine of History

"A wide ranging, lucid analysis of Union victory in the Civil War."--U.S. Army Chief of Staff's Professional Reading List
---
To order online:
//www.press.uillinois.edu/books/catalog/25nqe9md9780252062100.html
To order by phone:
(800) 621-2736 (USA/Canada)
(773) 702-7000 (International)
Related Titles