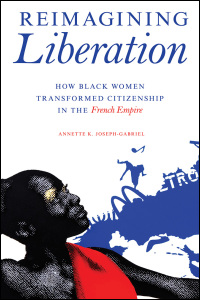 Reimagining Liberation
How Black Women Transformed Citizenship in the French Empire
Awards and Recognition:
A Cite Black Women Top Non-Fiction of 2019 Book
A Black Perspectives Best Black History Book of 2020
The work and thought of seven black women in the fight against colonialism
Black women living in the French empire played a key role in the decolonial movements of the mid-twentieth century. As thinkers and activists, these women lived lives of commitment and risk that landed them in war zones and concentration camps and saw them declared enemies of the state.
Annette K. Joseph-Gabriel mines published writings and untapped archives to reveal the anticolonialist endeavors of seven women. Though often overlooked today, Suzanne Césaire, Paulette Nardal, Eugénie Éboué-Tell, Jane Vialle, Andrée Blouin, Aoua Kéita, and Eslanda Robeson took part in a forceful transnational movement. Their activism and thought challenged France's imperial system by shaping forms of citizenship that encouraged multiple cultural and racial identities. Expanding the possibilities of belonging beyond national and even Francophone borders, these women imagined new pan-African and pan-Caribbean identities informed by black feminist intellectual frameworks and practices. The visions they articulated also shifted the idea of citizenship itself, replacing a single form of collective identity and political participation with an expansive plurality of forms of belonging.
---
"Delicately yet deeply explore[s] the lives of women who are 'rendered invisible' (invisibilisées) or are 'acknowledged as a potential source of curious amusement' in French women's history. . . . Reimagining Liberation expand[s] our understanding of how the history of decolonization, feminism, and citizenship intersect in the francophone world from the age of slavery to the present day." --Nursing Clio

"Beautifully written . . . Annette Joseph-Gabriel's Reimagining Liberation: How Black Women Transformed Citizenship in the French Empire offers a bold new path for reimagining the freedom struggles of the twentieth century. " --Black Perspectives

"Annette K. Joseph-Gabriel's Reimagining Liberation is a timely monograph that recasts this history of anticolonial black liberation to attend to what 'decolonization [would] look like if we took into account, even centered, women's visions for a decolonial future.'" --H-Net Reviews
"A transformative and unprecedented contribution. It recovers material, heretofore mostly unexamined, to identify each woman's local and global positionalities, that is, their national circumstances as well as the areas where they and their struggles intersect. Readers eager to learn about this historical and literary era will discover gems in this book."--Renée Larrier, author of Autofiction and Advocacy in the Francophone Caribbean

"Seven black women anchor Dr. Annette Joseph-Gabriel's, Reimagining Liberation, an inspired and original history of decolonization. These women's imaginings and practices of liberation politics and decolonial citizenship made them resilient political protagonists in a time of upheaval. In her important book, Joseph-Gabriel compellingly argues for doing far more of what she, Suzanne Césaire, Paulette Nardal, Eugénie Éboué-Tell, Jane Vialle, Andrée Blouin, Aoua Kéita and Eslanda Robeson have done: centering black women's experiences, politics, and leadership within struggles to identify and challenge global systems of injustice."--Jennifer Anne Boittin, author of Colonial Metropolis: The Urban Grounds of Anti-Imperialism and Feminism in Interwar Paris
---
To order online:
//www.press.uillinois.edu/books/catalog/25pkq4fp9780252042935.html
To order by phone:
(800) 621-2736 (USA/Canada)
(773) 702-7000 (International)
Related Titles