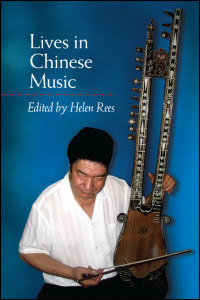 Lives in Chinese Music
The unique lives and careers of contemporary Chinese musicians
Until recently, most scholarly work on Chinese music in both Chinese and Western languages has focused on genres, musical structure, and general history and concepts, rather than on the musicians themselves. This volume breaks new ground by focusing on individual musicians active in different amateur and professional music scenes in mainland China, Hong Kong, and Chinese communities in Europe.
Using biography to deepen understanding of Chinese music, contributors present richly contextualized portraits of rural folk singers, urban opera singers, literati, and musicians on both geographic and cultural frontiers. The topics investigated by these authors provide fresh insights into issues such as the urban-rural divide, the position of ethnic minorities within the People's Republic of China, the adaptation of performing arts to modernizing trends of the twentieth century, and the use of the arts for propaganda and commercial purposes.
The social and political history of China serves as a backdrop to these discussions of music and culture, as the lives chronicled here illuminate experiences from the pre-Communist period through the Cultural Revolution to the present. Showcasing multiple facets of Chinese musical life, this collection is especially effective in taking advantage of the liberalization of mainland China that has permitted researchers to work closely with artists and to discuss the interactions of life and local and national histories in musicians' experiences.
Contributors are Nimrod Baranovitch, Rachel Harris, Frank Kouwenhoven, Tong Soon Lee, Peter Micic, Helen Rees, Antoinet Schimmelpenninck, Shao Binsun, Jonathan P. J. Stock, and Bell Yung.
---
"The essays integrate the life stories of each musician into political, social, and economic developments in China. . . . Recommended."--Choice

"In a difficult field...[this] book breaks new ground by bringing us the real lives of real musicians."--Songlines

"A magnificent contribution to English-language scholarship on the music of China. . . . The exceptional writing throughout the volume results in a collection that displays ethnographic research and writing at its best."-- The World of Music

"Lives in Chinese Music represents a pioneering work in the field of ethnomusicology. The seven essays, highly uniform in length and very well structured, provide contrasting approaches and perspectives to the study of musical biography. The volume is certainly a valuable addition to the scholarship of Chinese music both inside and outside the Euro-American scholarship worlds."--China Review International
"Each essay in this collection makes original contributions to Chinese music scholarship, and the juxtaposition of musicians from different ethnic and cultural backgrounds provides a viable forum for future research and discussion. By privileging musicians and their works, the authors render many nameless musicians visible; more important, this book provides a much-needed and nuanced understanding of how music is produced on the ground and how attention to this kind of music production enriches Chinese music historiography."--Frederick Lau, author of Music in China: Experiencing Music, Expressing Culture

"Rees has brought together a lively and engaging collection of essays that shows the breadth of music-making possibilities in China. The stimulating essays cover a very broad range of music makers, including illiterate village musicians, an ethnic minority rock star, elitist instrumentalists, and a Cantonese opera singer living in England. A truly unique and welcome approach."--Nancy Guy, author of Peking Opera and Politics in Taiwan
---
To order online:
//www.press.uillinois.edu/books/catalog/27wqt9wt9780252033797.html
To order by phone:
(800) 621-2736 (USA/Canada)
(773) 702-7000 (International)
Related Titles