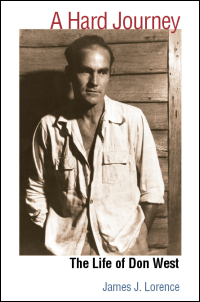 A Hard Journey
The Life of Don West
Awards and Recognition:
Weatherford Award for Nonfiction, Appalachian Studies Association, 2008
The biography of a pioneering figure in twentieth-century Southern radicalism
A Hard Journey brings to life Don West: poet, ordained Congregationalist minister, labor organizer, educator, leftist activist, and one of the most important literary and political figures in the southern Appalachians during the middle years of the twentieth century. Initially motivated by religious conviction and driven by a vision of an open, democratic, and nonracist society, West was also a passionate advocate for the region's traditional values.
This biography balances his literary work with political and educational activities, placing West's poetry in the context of his fight for social justice and racial equality. James J. Lorence uses previously unexamined sources to explore West's early involvement in organizing miners and other workers for the Socialist and Communist Parties during the 1930s. In documenting West's lifetime commitment to creating a nonracist, egalitarian South, A Hard Journey furnishes the spotlight he deserves as a pioneering figure in twentieth-century Southern radicalism.
---
"This is the first comprehensive biography of Don West . . . a native of the North Georgia mountains. . . . West is widely viewed as one of the most compelling political and literary figures of the Southern Appalachians during the middle of the twentieth century."--Appalachian Heritage

"Rather than focus on his literary achievements alone, James J. Lorence's biography balances his literary work with political and educational activities, placing West's poetry in the context of his fight for social justice and racial equality. In documenting West's lifetime commitment to creating nonracist, egalitarian south, A Hard Journey furnishes the spotlight he deserves as a pioneering figure in twentieth-century southern radicalism."--JSF Magazine

"Historian James Lorence has written an engaging biography of a man many have come to regard as a modern-day folk hero. . . . This book chronicles a life of unwavering commitment to the cause of the working class and racial and economic equality. Thanks to Lorence's book, those of us in the Appalachian South - and indeed elsewhere - can take deeper inspiration from West's life and writings."--MRzine

"Labor historian Jim Lorence has written a sympathetic portrait of Don West that is well worth reading."--Sunday Gazette-Mail

"In this extremely thorough biography, Lorence paints an unusual picture of Appalachian Don West. Expanding the view of West beyond that of poet, Lorence discusses and offers research that demonstrates West's work as educator, activist, and minister. . . . Recommended."--Choice

A Hard Journey, well written and exhaustively researched, does more than provide readers with a lens into the life of a dynamic writer and activist. Crucially, it illustrates the convergence of American political radicalism, literature, and working-class life, with West's poetry serving as a vehicle for social change."--North Carolina Historical Review

"Compelling to read and essential to students of social and cultural movements in modern American history."--West Virginia History

"Lorence demonstrates the connection between Don West's activism and his art--and the grounding of both in his lifelong commitment to celebrate and liberate the people of Appalachia. The result is an engaging narrative . . . that provides a window into multiple dimensions of social reform in the twentieth-century South."--Journal of Southern History

This is a definitive contribution to the history of Southern Appalachian radicalism and education. . . . it is hard to imagine anyone writing a more valuable biography."--Journal of Appalachian Studies
"Don West was an American original, a stranger to fear, and one of the South's most daring, impassioned and indomitable working-class heroes. James Lorence has given us an insightful and richly drawn portrait of West, with all of his triumphs, flaws, and foibles. Spanning a century of activism, A Hard Journey is not only an important biography--it is also a groundbreaking chronicle of the extraordinary and often harrowing roles of southern radicals during our nation's most troubled times."--Jeff Biggers, author of The United States of Appalachia: How Southern Mountaineers Brought Independence, Culture, and Enlightenment to America

"A Hard Journey is a fabulous biography of a remarkable poet and activist. Lorence has familiarized himself with everything previously available on Don West and then makes a quantum leap forward with his own exhaustive research. This book is accessible to general readers and students, but is one that will be admired by scholars."--Alan Wald, author of Trinity of Passion: The Literary Left and the Anti-Fascist Crusade

"An impressive book that will make a powerful contribution to labor, southern, Appalachian, and radical studies. Meticulously researched and written with refreshing clarity, A Hard Journey serves as a crucial lens for envisioning and understanding several periods of American social and cultural history. This presentation of West as a figure both emblematic and extraordinary, and absolutely fascinating to 'track' from one political or literary endeavor to another, will rock the world of Southern history."--Rachel Rubin, coeditor of Radicalism in the South since Reconstruction
---
To order online:
//www.press.uillinois.edu/books/catalog/28asc5md9780252032318.html
To order by phone:
(800) 621-2736 (USA/Canada)
(773) 702-7000 (International)
Related Titles